Scott Rider, Sebastian Wenta and Larry Brock: Three-Way Tie after Day 1 at the Highland Games World Championships
Victoria, British Columbia—Things could hardly be closer at the 2010 IHGF Heavy Events World Championships as three men - Scott Rider (England), Sebastian Wenta (Poland) and Larry Brock (USA) - are tied for top honors after the first day of competition.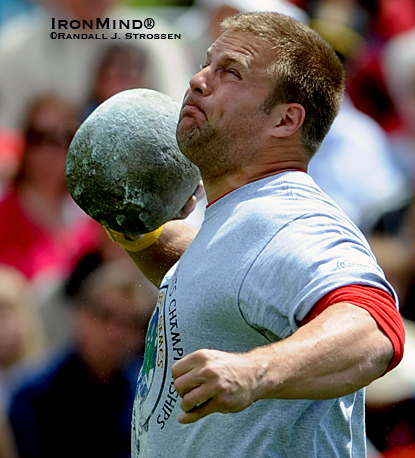 Scott Rider (England) started strongly today at the IHGF Heavy Events World Championships and ended up in a three-way tie for first place going into the final day of competition tomorrow. IronMind® | Randall J. Strossen photo.


The day opened with with the Braemar stone, which was announced as weighing a heavy 26-1/2 lb. Sebastian Wenta won, Scott Rider was second and setting the stage for a day of close competition, Sean Betz (USA) and Pat Hellier (New Zealand) tied for third.

Larry Brock asserted himself on the 56-lb. weight for distance, with Kerry Overfelt (USA) coming in second and Sean Betz getting third. After two events, Betz and Wenta went into a tie for first place, with Rider sitting in third.

Brock made it two in a row, winning the 16-lb. hammer, Craig Sinclair (Scotland) was second and Harrison Bailey III was third. Now it was Betz and Brock tied for first, overall, with Rider still holding on to third place.

Wenta won the 56-lb. weight for height on countback with a throw of 16' 6", and after missing 17' three times, he took an extra attempt "just to show he could do it," but missed again. Betz was second and Brock was third.

Now it was Betz in the lead by one point over Brock, who led Wenta by one point, who led Rider by one point, so it was time for the big stick to sort things out for the first day of competition.

Listed as a 170-lb. caber, announcer David Webster questioned this figure, given its relatively slender appearance. Whatever its actual weight, Rider quickly stamped it as his, and he went on to win the event, with Wenta second and Brock third, creating a three-way tie going into the second and final day.

A large, enthusiastic crowd followed the action all day, unfazed by afternoon weather that turned unseasonably cold and windy.


Want to talk strength? Join the IronMind® Forum!

You can also follow IronMind® on Twitter.