Scott Rider Repeats at the Royal Braemar Highland Games
Olympian Scott Rider—schoolteacher by profession and fearsome thrower on the side—put together back-to-back wins at the Royal Braemar Highland Games as he captured the 2013 title in front of Her Majesty the Queen, The Duke of Edinburgh, and The Prince of Wales.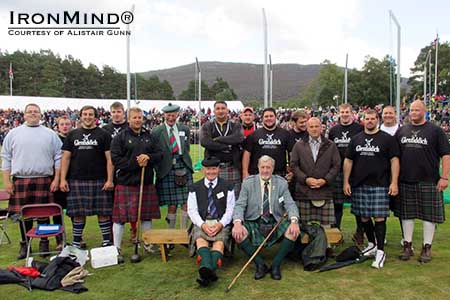 2013 Royal Braemar Highland Games group photo: heavy events winner Scott Rider is third from the left, front row. IronMind® | Photo courtesy of Alistair Gunn


Scott Rider Wins Royal Braemar Highland Games 2013
by Francis Brebner

For the second year running, England's Scott Rider took the overall win in front of sellout crowd of twenty thousand spectators at the Royal Braemar Highland Games in Scotland, which was attended by Her Majesty the Queen, The Duke of Edinburgh, and The Prince of Wales.

Fourteen athletes contested the win, including England's Rider; Hungary's Adam Dares and Attila Sabot; Poland's Sebastian Went and Lukasz Went; and Scotland's Grant Sinclair, Sinclair Patience, Craig Sinclair, Jamie Gunn, Bruce Robb, Lorne Colthart, John MacLeod, Stuart Anderson, and Kyle Randall. The event was judged by Bill Anderson, Henry Gray, Alan Sims, and Alistair Gunn, in his first appearance at the Royal Braemar Games as a judge.

With such a large field of competitors, each athlete was allowed only two throws per event, and no warm-ups; and the events were perfectly timed leading up to the open and Braemar cabers for the precise arrival of the Royal family.

The competition got underway with the 16-lb. open stone, which was won by Rider in fine form with a majestic putt of 57' 4", just over a meter ahead of his nearest rival, S. Went, at 53'10". Third was brother L. Went at 53' 2".

The 28-lb. weight for distance was an all-out duel between C. Sinclair and Rider, with mere inches separating the two. C. Sinclair took the victory with 81' 5" to Rider's 81' 2". Patience was third at 77' 6".

The tables were turned in the 56-lb. weight for distance: Rider was back in the driver's seat for his second win at 41' 8". Robb was second at 41' 5", with S. Went third at 40' 9".

Scotland's number one hammer thrower C. Sinclair was pushed all the way in the 22-lb. hammer by the up-and-coming Randall, who put up an excellent performance. Only 1" separated the athletes, with C. Sinclair claiming the win at 104' 8" to Randall's 104' 7. Colthart took third at 102' 9".

The 56-lb. weight over the bar was a tussle that ended in a tie for first place between Rider, S. Wenta, and C. Sinclair at a height of 15' 6". Fourth equal were L. Wenta, Robb, Patience, and Colthart at 14' 6".

In the 28-lb. Braemar stone, S. Wenta pulled off the win with 36' 2", followed by Rider at 35', and L. Wenta in third place at 34' 1".

The open caber, 20' 1" in length and 121 lb. in weight, was won by Rider with a perfect 12:00 toss. S. Wenta took second at 12:01 and Sinclair third at 12:03.

The Braemar caber, 19' 9" in length and a little heavier at 132 lb., was tossed by only two athletes: Rider, first place, did 12:02 and S. Wenta, second, did 12:13.

The final event of the competition, the 16-lb. light hammer, ended on a high for C. Sinclair with a throw of 129' 3". He was followed by Randalls at 125' 3" and Rider at 124' 1".

Overall points (top 6):
| | | |
| --- | --- | --- |
| 1. | Scott Rider | 40.0 |
| 2. | Craig Sinclair | 36.0 |
| 3. | Sebastian Wenta | 29.0 |
| 4. | Lorne Colthart | 17.5 |
| 5. | Bruce Robb | 13.5 |
| 6. | Sinclair Patience | 11.5 |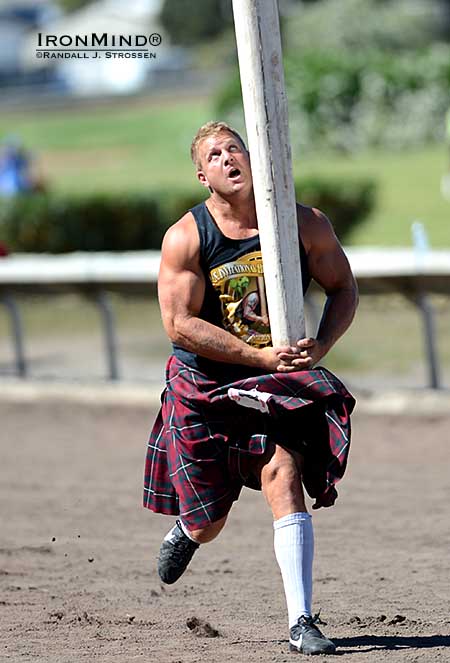 A few days before competing in the Royal Braemar Highland Games, Scott Rider was in Pleasanton, California for the 2013 US Invitational Heavy Events Championships—where he finished a strong third place overall. IronMind® | Randall J. Strossen photo

#

Want to talk strength? Join the IronMind Forum.

You can also follow IronMind on Twitter and on Facebook.