Scott Rider: Highland Games World Champion x 2
Scott Rider went into Superman mode this past week, exchanging the appearance of a brainy school teacher for a that of a hungry Highland Games heavy—bagging two world titles as Colin Bryce called the action for IronMind.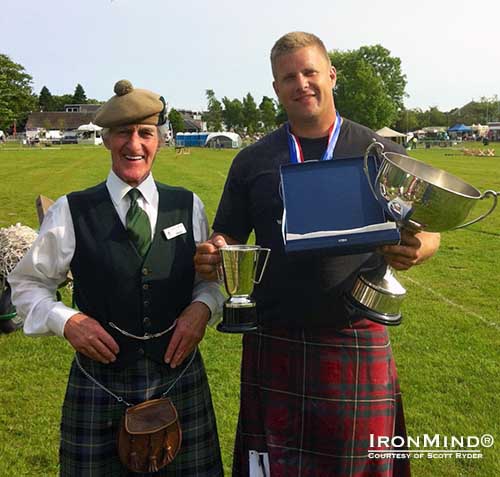 Flanked by Chieftain of the Loch Lomond Highland Games, Major James Macrae, Highland Games world champion Scott Rider sports the spoils of victory. IronMind® | Photo courtesy of Scott Rider.


Englishman Scott Rider Claims Two Highland Games World Titles in a Week
by Colin Bryce

The SGA World Highland Games Championships were once again held at Balloch, on the banks of Loch Lomond, last Saturday in front of 17,000 spectators. Scott Rider of England, a former Olympic bobsleigher and international shot putter took the victory, with 2nd place going to Scotland's Bruce Robb, 3rd place was won by Lorn Coulthard also of Scotland.

On his way to winning his first World title Scott won five of the eight events and hit a 'dour' weight to 86' 0'' for a ground record.

Three days later he followed it up with the World Caber Tossing title at Inverary. No mean feat as he had competed 4 days in a row. Scott was the only man to turn the big caber. More impressively was that he id it 3 times with a best of 12.04. The two other qualifiers were Bruce Robb of Scotland (2nd) and Neil Elliot of England (3rd).

After a decade of putting amateur athletics first Rider is slowly doing more highland games. He even turned down the chance to win the English AAA outdoor title to do the Balloch World Champs. What I believe this spells is a full commitment to the Games from Rider and it may mean a lot more silverware in the future from a man who already has a rather impressive sporting CV.

### 



The IronMind Forum: discuss this article, talk strength, get help with your training.

You can also follow IronMind on Twitter and on Facebook.