Schmorchkov Smokes the 105s
Sofia, Bulgaria - Vladimir Smorchkov, the man most famous for almost winning a World Weightlifting Championships while lifting in the B-session, had no need to do anything but run straight up the middle on his way to a victory in the 105-kg category at the European Weightlifting Championships today.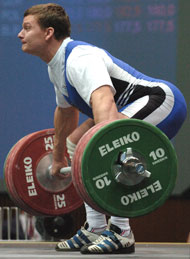 Vladimir Smorchkov (Russia) starts 195 kg on its split-second ride from the platform to overhead, winning the first of his three gold medals today. IronMind® | Randall J. Strossen, Ph.D. photo.

Smorchkov ran through a string of three easy-looking snatches: 187.5, 192.5 and 195, and this last lift gave him a five kg lead over Dmitry Lapikov (Russia) and a 12.5 kg or larger lead over everyone else in the class.

As it turned out, three lifters cleaned and jerked 227.5 kg, with Smorchkov getting the gold on bodyweight, not to mention a somewhat amazing two-to-one gift on his lift, which had-to-miss pressout.

Bunyami Sudas (Turkey) made a great lift with this weight on his third attempt, coming back for a terrific success after choking on his second attempt, and Ramunas Vysniauskas (Lithuania), not exactly the world leader in completed lifts, did a great job in making two jerks, moving himself up a notch in the process and netting two bronze medals.

Smorchkov's 422.5-kg total was followed by Sudas and Vysniauskas, both at 410, but Sudas was the lighter man.