Schmitz on the Lifts: The Lowdown on Lowering the Bar
Yes, there are rules governing how the barbell must be lowered to the platform in Olympic-style weightlifting competition, but that's not what Jim Schmitz is talking about in his latest training article.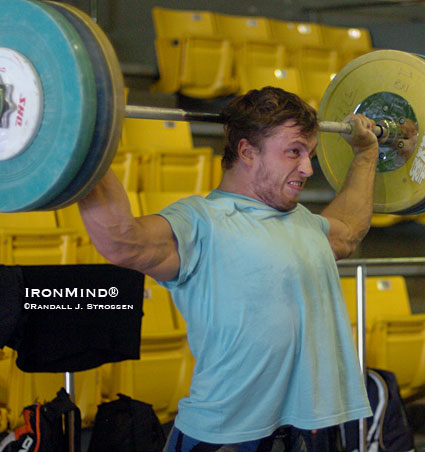 Dmitry Klokov combined squat snatches and presses behind the neck in the training hall at the 2007 World Weightlifting Championships (Chiang Mai, Thailand). IronMind® | Randall J. Strossen photo.

Instead, Schmitz is talking about how to safely lower the bar when you are doing repetition overhead lifts - whether in front of or behind the neck.

Sure, if you are handling light weights, this is easy, but as soon as the weights get heavy, if you haven't taken the time to learn how to do this properly, you'll be on the road to an accident, an injury, or both. On the other hand, once you learn the correct technique, you will gain all the benefits of being able to do heavy overhead lifts for repetitions.

Learn from an expert: Go to the Training Articles button at the top of the IronMind homepage and select "Schmitz on the Lifts," or go directly to the "Schmitz on the Lifts" index page.