Schmitz on the Lifts: Jerk Supports
You might think jerk supports are the moderators on your least-preferred forum, but in weightlifting, they're a movement that three-time USA Olympic weightlifting team coach Jim Schmitz gives top ratings in terms of building core strength and enhancing everything from stability to balance, not to mention tendon and joint strength.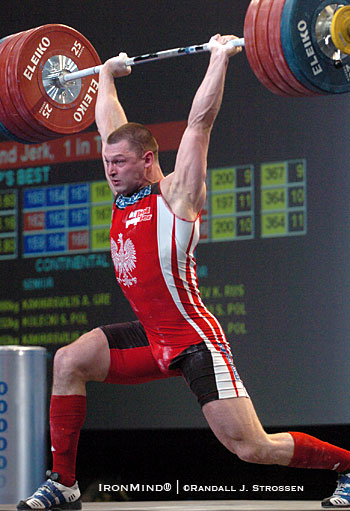 Szymon Kolecki (Poland) has locked out this 218-kg jerk at the 2007 European Weightlifting Championships and is supporting the weight in a way that provides tremendous training benefits - Jim Schmitz ("Schmitz on the Lifts") explains how and why to train on this phase of the jerk. IronMind® | Randall J. Strossen photo.

Suffice it to say that if you're interested in strength from head to toe, with some other good athletic training thrown in, this is something you will want to learn about and do; so read up, train on it and get stronger.

Read the latest article in the "Schmitz on the Lifts" series; you can also follow the link from the Training Articles button at the top of the IronMind home page.