Schmitz on the Lifts: Instinctive Periodization
We have just posted the latest Schmitz on the Lifts column, and this month Jim Schmitz gives us a refreshing slant on periodization, or cycling.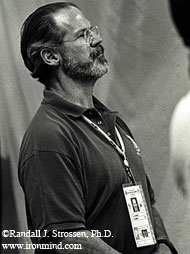 No armchair or keyboard expert, three-time US Olympic weightlifting team coach Jim Schmitz knows the trenches well: At the 2001 World Weightlifting Championships (Antalya, Turkey), Jim got the call to coach the only US lifter who made the trip, Jackie Berube. IronMind® | Photo by Randall J. Strossen, Ph.D.
Anyone who remembers what band Paul McCartney was in before Wings, might be mildly amazed at how frequently you run into periodization programs that either give you a headache to follow or make you wonder why everyone isn't a world champion if progress is that certain.

Cutting through the fluff, our resident weightlifting expert, Jim Schmitz, has a different take on the subject, and if instinctive periodization seems like a mouthful, don't worry, the message is straightforward and bound to prove beneficial to your training.

Click here for the latest Schmitz on the Lifts column, or follow the link to the Training Articles on the IronMind® home page.