Wladyslawowo, Poland - Instead of acting like a clown to get attention, Viktors Scherbaths just lifts heavy weights, and lets his performance speak for itself.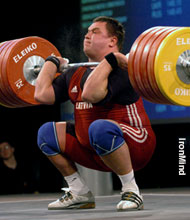 On his way back up with 255 kg on his final attempt, Viktors Scerbatihs cleaned this strongly but missed the jerk as he swept the supers at the European Weightlifting Championships today. IronMind® | Randall J. Strossen, Ph.D. photo.
Scerbatihs, the defending European champion, got off to an imperfect start today when he missed his opening snatch of 193 kg; but true to form, instead of looking at his hand, as if its sudden betrayal or failure was the cause of the missed lift, he shook his head, adjusted and came back for a very solid success with the same weight, and then he made 200 kg as surely as if the weight were on rails. He continued his workmanlike precision as he walked through 238 kg on his first attempt in the clean and jerk, did the same thing with 245 on his second attempt even though the crowd never quieted down for him, and with all the gold medals in hand, just to frost the cake, he called for 255 - he cleaned it strongly, but he didn't quite get it fixed overhead.

Silver medalist in the total, Ashot Danielyan (Armenia) also missed 193 on his first snatch, made it on his second attempt and then hit a good 200 on his third attempt. Danielyan made his opening clean and jerk, 236 kg, badly missed the jerk on his second attempt, 243 kg, and was a lot closer, but still missed the jerk on his third attempt, 246 kg. Bronze medalist in the total, Velichko Cholakov (Bulgaria) snatched 192 with, for him especially, only a short run to save it, and then 198, before missing 200. He opened with a very solid 230-kg clean and jerk, followed by a strong and easy success with 236 kg on his second attempt, and then missed racking the bar on his last attempt, 238 kg.