Scerbatihs . . . Steiner at the Europeans
Lignano Sabbiadoro, Italy - It came down to the last attempt, but Viktors Scerbatihs (Latvia) made the lift required to push Matthias Steiner (Germany) into silver medal position, beating Steiner by one kilo.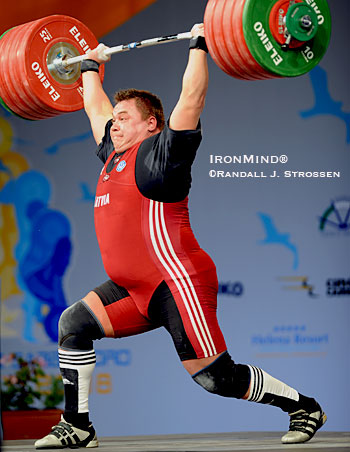 They loaded it and he lifted it: Viktors Scerbatihs cleaned and jerked 252 kg at the European Weightlifting Championships today, claiming the super heavyweight crown. IronMind® | Randall J. Strossen photo.

Scerbatihs had one shot to overcome Steiner, who had been red hot all night - making PR lifts when it really counted and going six for six. The bar was loaded to 252 for the final attempt and Scerbatihs made the lift, winning the super heavyweight crown at the European Weightlifting Championships.