Savickas Classic: Martin Wildauer Leads after Day 1
"It was a great start in MHP SCL Lithuania. The EXPO itself pulled in over 10.000 people in first day and when the strongmen started their job the competition arena was packed with people cheering the athletes for great results," Ilkka Kinnunen reported to IronMind today.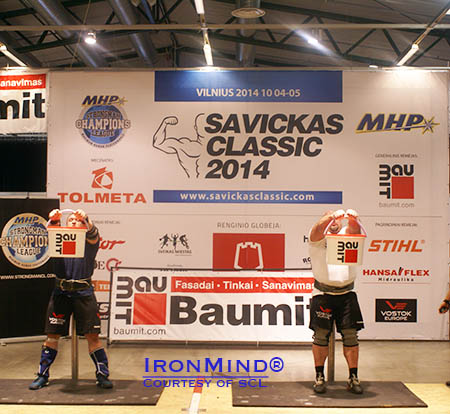 The 2014 Savickas Classic got off to a big start yesterday in Vilnius, Lithuania. IronMind® | Photo courtesy of SCL


"The first day the athletes did four events starting with the Sled Drag, 20m with 440kg. The top 3 were Kryzsztof Radzikowski, Martin Wildauer and Mathias Belzak. The second event was 400-kg Yoke Race for 20 m. Lithuanian Vidas Blekaitis won it with an excellent time of 8.75 seconds, followed by Marius Lalas, and Rauno Heinla and Martin Wildauer were tied for third.

"Next was the Forward Hold with a 30-kg box. Kryzstzof Radzikowski won, Alex Moonen was second and Ole Martin Hansen was third. The last event of first day Stone Lift over the Bar with a 180-kg stone and a60-second time limit. Rauno Heinla won, Vidas Blekaitis was second and Martin Wildauer was third.

"Top three after the first day:

1. Martin Wildauer 37.5 points
2. Vidas Blekaitis 36
3. Rauno Heinla 33.5

"Today we will continue with four more events. Tractor Pull, with Harness and Rope, Overhead Medley, Shield Walk and Atlas Stones.

Stay tuned for full story on IronMind after Sunday," said Kinnunen.


###

Want to talk strength? Join the IronMind Forum.

You can also follow IronMind on Twitter and on Facebook.