Savickas Classic: MHP SCL Lithuania
"This weekend MHP SCL travels to Lithuania, home of strongman legend Zydrunas Savickas, where the 13th stage of Strongman Champions League will take place," Ilkka Kinnunen reported to IronMind today.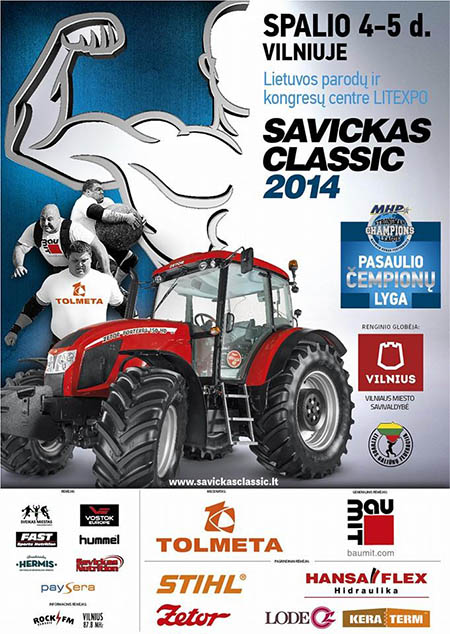 The 2014 edition of the Savickas Classic will be the lucky 13th stage of the MHP Strongman Champions league. IronMind® | Image courtesy of SCL/Zydrunas Savickas


As part of Sport Expo in Vilnius, this will be a two-day contest with a leading international field of professional strongman competitors:

Vidas Blekaitis Lithuania
Marius Lalas Lithuania

Saulius Brusokas Lithuania

Martin Wildauer Austria
Rauno Heinla Estonia

Dainis Zageris Latvia

Krzysztof Radzikowski Poland

Erwin Katona Serbia

Alex Moonen Holland

Matjaz Belsak Slovenia

Arto Niemi Nikkola Finland

Ole Martin Hansen Norway

DAY 1 - Saturday, October 4
1.Truck pull, 15 meters harness and rope SINGLE

2. Sledge pull 25 meters DOUBLE 

3. Front hold 25kg DOUBLE 

4. Shield walk for distance DOUBLE

DAY 2 – Sunday, October 5
5. Super yoke 400kg DOUBLE 

6. Atlas stone for reps 185kg SINGLE 

7. Overhead medley: log, block, log, dumbell SINGLE 

8. Medley: tyre flip +kegs loading DOUBLE

And for all strongman fans within reach of Eurosport, "Don't forget to watch SCL Poland this Friday, October 3, at 21.00 hours," Kinnunen said.

Marcel Mostert confirmed for IronMind that "Zydrunas Savickas will not be competing," and he added that "Ervin Katona, the current SCL leader, will be present but has a biceps injury, so the expectation is that he can only do a few events, which opens the door to a new SCL leader . . . either Martin Wildauer or Krzysztof Radzikowski.

"And the further question is, Will Krzysztof take the 5th victory in a row in SCL?!"

If that't not enough, an amateur strongman show will open for the pros, so here's the address if you'll be in town: Lithuanian Exhibition and Congress Centre LITEXPO, Laisves ave. 5, Vilnius, Lithuania

###



Want to talk strength? Join the IronMind Forum.

You can also follow IronMind on Twitter and on Facebook.