Sarah Robles (USA) Bags Bronze Medal in Rio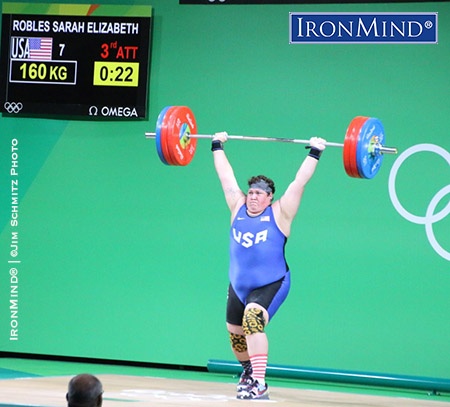 American weightlifter Sarah Robles had a PR day in the perfect place, the Rio Olympics, and won the bronze medal for her success.

Rio Report: Women's +75 kg Weightlifting
by Jim Schmitz

USA's Sarah Robles had an incredible PR day, with a PR snatch of 126, a PR C&J of 160, and PR Total of 286 and won USA's first medal in weightlifting at the Olympics since Cheryl Haworth won a Bronze in 2000, the first Olympics where women competed.  Sarah was totally focused on her own lifting and wasn't paying attention to what the others were lifting.  It was great to see the American Flag raised in award ceremony.



We finally had a competitive and exciting women's competition.  North Korea's Kim Kuk Hyang went 6 for 6 had a 1 kilo lead after the snatch 131 to 130 plus lighter bodyweight than China's Meng Supine.  Meng needed this 177 on her final attempt for the gold medal and it was hard, but she made it.  These two women went lift for lift exchanging the lead with each attempt and the lifts were not easy, they fought hard for every kilo

                                       ###





You can also follow IronMind on Twitter and on Facebook.                        



Want to talk grip, strongman, weightlifting . . . everything strength? Visit the IronMind Forum.