San Antonio Highland Games: Top Masters Ready to Rumble
"My masters competition will feature one of the strongest fields of the year," San Antonio Highland Games Athletic Director Ed Cosner told IronMind, and when you see his lineup, you'll know that Ed isn't blowing smoke.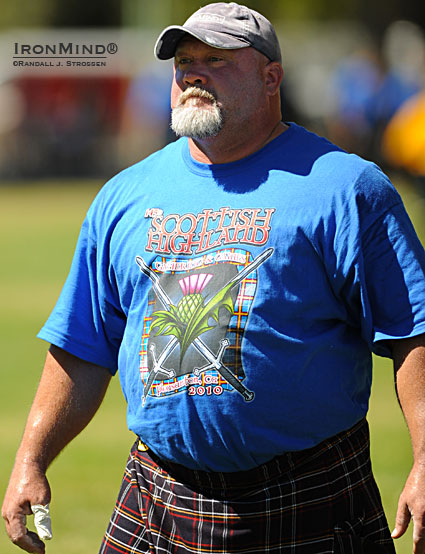 Competing in the masters class, Ed Cosner is an institution in Pleasanton, Calfornia; switching gears, this weekend, he's shouldering the role of Athletic Director at the San Antonio Highland Games. IronMind® | Randall J. Strossen photo.


"I have Mike Baab, Gene Flynn, Shawn Baker, Michael Dickens, Anthony Lordi (Switzerland), Kengo Kubota (Japan), and Dean Ross. All of these guys are at the top of the masters ranks and some are world champions.

"The games are April 2 and 3. I'm a little behind as I got stuck in Christchurch, New Zealand for a week extra after the earthquake. I was working with my 'prize' athletes in rugby: two brothers on the All Blacks as the Super 15 season gets under way leading into Rugby World Cup this year.

"Just got a message from Dr. Terry Todd and he is coming out and bringing David Webster with him. David is at the Stark Center at UT–Austin writing a book. Should be awesome to have Scottish Heavy Athletics Royalty at the games! Along with over 75 athletes competing I'm hoping to make a good show of things when they come."

So if you want to see some some big, strong guys having fun playing with sticks and stones—and maybe meet Ed, David or Terry, to boot—head over to the San Antonio Highland Games this weekend.

###

Want to comment on this article or just want to talk strength? Join the IronMind Forum!

You can also follow IronMind on Twitter.