SPC William Johnson Certifies on the IronMind Red Nail
SPC William Johnson made short work of bending an IronMind® Red Nail™ in front of his official referee, Tyler Kociuba, bringing the ends down "to 1-1/4" within 21 seconds."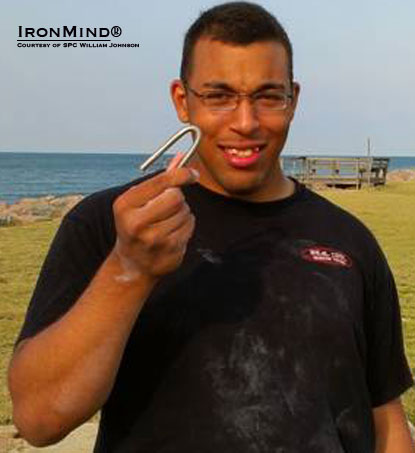 "I was born and raised in Arizona, and joined the U.S. Army straight out of high school four years ago," SPC William Johnson told IronMind. Johnson, who is 22 years old, stands 6' 3" tall and weighs 240 lb. He is "currently stationed at Ft. Storey, Virginia." Welcome to the Red Nail Roster! IronMind® | Photo courtesy of SPC William Johnson.


"He crushed it," Kociuba reported to IronMind, which pretty much tells the whole story.

"I work as an Information Systems Operator-Analyst for the military and most of my interests revolve around the computers I work with, being a bit of a geek," Johnson said.

"I wasn't actually interested in the world of Strongman and other feats of strength until I came across a few videos of Dennis Rogers on the internet. Thus, last November I ordered an IronMind Bag of Nails and proceeded to work through the entire bag, save the Reds.

"Since then I've started to develop a training routine based on staggered sessions of varied intensity based on their required recovery times. Next, I intend to certify on the CoC #3 [Captains of Crush No. 3 gripper], and keep up my bending until I am capable of certifying on the Gold Nail."

Well done, William and welcome to the club: Your name has been added to the Red Nail Roster, the first, we're guessing, of the honors you will be earning in the coming years.

Many thanks to Tyler Kociuba for serving as William's official referee—without your help, IronMind would not have been able to recognize William's accomplishment.

###

The IronMind Forum: discuss this article, talk strength, get help with your training.

You can also follow IronMind on Twitter.