"I wanted to sent you news update from Bosnia," SCL cofounder Ilkka Kinnunen reported to IronMind today, where he is snowbound in Sarajevo.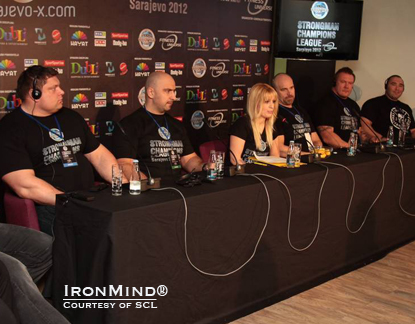 Ilkka Kinnunen told IronMind that the organizers of the SCL finals in Sarajevo were quick to respond despite a tremendous winter storm hitting the area. Shown is the press conference held yesterday in Sarajevo. IronMind® | Courtesy of SCL.


"Yesterday morning it started to snow very heavily here in Sarajevo. Most of the athletes managed to arrive on time, but a few of them had to return back by plane because they closed the airport since it became too dangerous to land. However all athletes are here now, which is good news.

"The bad news is that last night we got 1.4m of new snow and the whole city is under snow, so the competition has postponed until Sunday. The Bosnian organizer, Fitness Universe, has however done excellent job here.

"We had big press conference yesterday with all major TV channels, radio and newspapers present," said Kinnunen, and snow or not, there is a lot of excitement building as the strongman world awaits the outcome of the SCL finals this weekend in Sarajevo.

###



Visit the IronMind Forum: talk strength, discuss this story. Strongman, grip, Highland Games, Olympic lifting, stones and more.

You can also follow IronMind on Twitter.