A dozen top strongman competitors will converge on Trzebnica, Poland this weekend for the seventh stage of the Coppa Cocktails Strongman Champions League.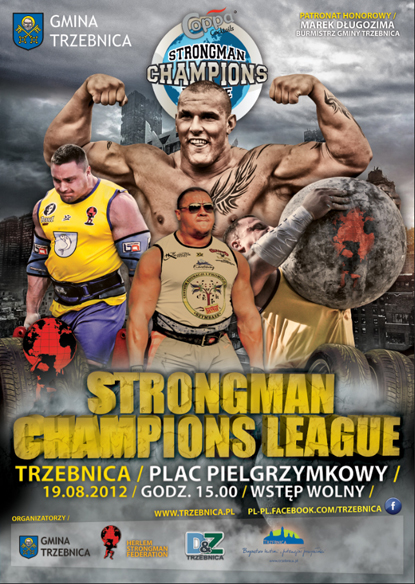 Trzebnica (near Wroclaw) will be the host of the SCL–Poland competiton this Sunday, August 19. IronMind® | Image courtesy of SCL.


"12 strong athletes will fight over six heavy events for the SCL POLAND title , SCL ranking points and prize money. At least 8 of these athletes will also compete in WSM [World's Strongest Man] later this year," Marcel Mostert told IronMind.

Here is the official start list:

Zydrunas Savickas (Lithuania)
Marc v/d Haer (South Africa)
Paul Pirjol (Romania)
Jarno Kirsela (Finland)
Misha Koklyaev (Russia)
Dainis Zageris (Latvia)
Martin Wildauer (Austria)
Ervin Katona (Serbia)
Akos Nagy (Hungary)
Krzystof Radzikowski (Poland)
Sebastian Kurek (Poland)
Mateusz Baron (Poland)

Also Mostert said, "This coming Friday evening at 23.15 we can see on Eurosport the first broadcasting of the SCL–Holland 2012, where Zydrunas Savickas broke his own world record in the log lift with 217.5 kg on the big steel log."

###

Visit the IronMind Forum: talk strength, discuss this story. Strongman, grip, Highland Games, Olympic lifting, stones and more.

You can also follow IronMind on Twitter.