SCL–FIBO on Eurosport

This Friday, Eurosport will air SCL–FIBO and to prime you for the action, contest organizer Heinz Ollesch set the stage for IronMind.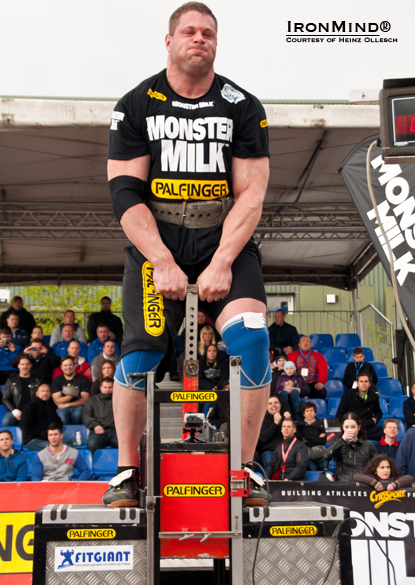 Martin Wildauer shown on the Bavarian Deadlift: "He won it now four years in a row," Heinz Ollesch told IronMind. "With 325 kg, [he] pulled [it] up to 100 cm." IronMind® | Photo courtesy of Heinz Ollesch.


2012 SCL–FIBO
by Heinz Ollesch

Strongman Project

The sixth FIBO Strongman ClassX was again a big success. Filmed for Eurosport because it's a Strongman Champions League (SCL) contest, it was a big magnet of the crowd, even though the weather was not as good as last year. The results you got already from Ilkka: Zydrunas was again the big winner; he controlled the whole contest.

After the strongman contest was over, the top three did a deadlift contest against 3 top powerlifters of Germany. The event was done at the pro bodybuilding show in the evening. It was not easy to get going after a whole day of competing, then a 3-hour rest, and then doing a max deadlift. Well, the strongman competitors won it easily, even though it was scored with relative points. Ervin Katona and Laurence Shahlaei pulled 380 kg and Zydrunas pulled an easy 360 kg. For these efforts, the athletes got another check of 3000 euros.

I would like to thank Jens Thieme, Manager of the FIBO-Power. It's a big pleasure to work with him. We plan already for the next 4 years. With him I did built the FIBO Strongman ClassX from a small show, to a Strongman Champions League contest.

From next year the Expo will be in Cologne, because the Expocenter in Essen got too small. So big plans for the future. So make sure to mark already your calendar for the April 13, 2013, when the 7th FIBO Strongman ClassX will shake Cologne.

###

The IronMind Forum: discuss this article, talk strength, get help with your training.

You can also follow IronMind on Twitter.