SCL and Giants Live Team Up for Budapest
Marcel Mostert told IronMind today that once again, Strongman Champions League (SCL) will be partnering with Giants Live–the official qualifying tour for the World's Strongest Man contest.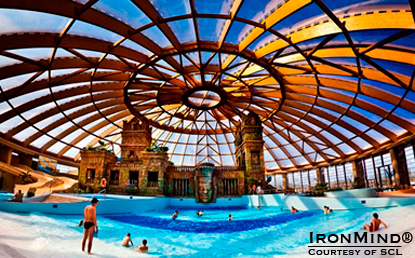 Giants Live and SCL will be at the Ramada Aqua World in Budapest, Hungary on June 17, 2012 and the top three competitors are guaranteed invitations to this year's World's Strongest Man contest. IronMind® | Courtesy of SCL.


The two organizations will be joined in this production by the Hungarian Strongman Association (HSMA), for the Giants Live in the Ramada Aqua World in Budapest.

Aqua World bills itself as being "One of the biggest indoor water theme parks in Hungary, and even Europe" and it is adjacent to the Ramada resort.

Once again, this is an official World's Strongest Man qualifier, and it signals the close working relationship between SCL and Giants Live.

"Like last year, when the Strongman Champions League cooperated with Giants Live in the Ukraine and Finland, we also will do some together again this year in Finland and Hungary," Mostert said. "We are really going to take further steps in the future.

"We really like to work with Colin, as he is doing his job In a professional way. Above the fact we know Colin already 15 years, we appreciate him as a great person to finish every job in a good way. Colin will also do some job in our SCL organization."

Bryce was quick to return the compliments, saying, "Working with these SCL guys is awesome. Their refereeing part is always the most professional and serious thing in any competition. And I'm really happy with their organizing skills. They know how to make strongman events!"

"The Giants Live in Hungary will be a beautiful one," said Mostert. "When the weather is good, we will have a full packed venue and a very nice bath afterwards!"

###


The IronMind Forum: discuss this article, talk strength, get help with your training.

You can also follow IronMind on Twitter.