SCL World Title and 1 kg of Gold for Dainis Zageris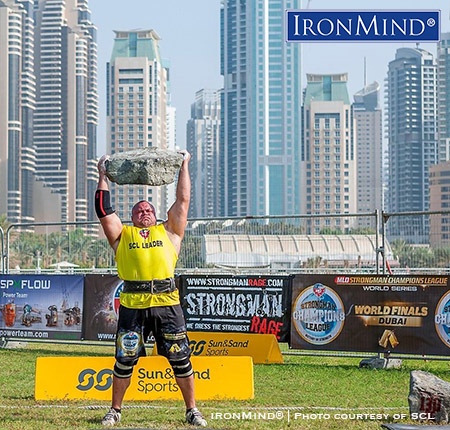 "Dainis Zageris is the new SCL world champion 2016 and dethroned Krzysztof Radzikowski from Poland," Marcel Mostert reported to IronMind, as last weekend the 16th and final stage of the MLO Strongman Champions League was held in Dubai.

"In the city of gold, Latvia's Dainis 'Titan' Zageris swept away his opponents in the final competition of the World Series.  2015 champion Krzysztof Radzikowski got second and Matjaz Belsak took third place.  It was a very hard, but also exciting final for all athletes, and since none of them had ever in Dubai, this was an experience as well for them.

"Despite the extremely hot weather, the competition in Dubai was full of memorable performances and strong results.

"On Day 1, Krzysztof Radzikowski registered a well-deserved victory in the discipline Car Train Pull, Eric Dawson triumphed in Rock Lift, where the athletes had to lift three stones with different weight (100 kg, 110 kg, 130 kg), and Dainis Zageris finished first in Pole Push, without a single loss in all of his matches.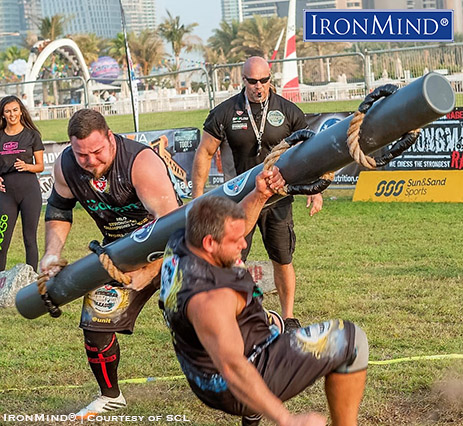 Matjaz Belsak (left) and Andreas Andreas Altmann (right) on the Pole Push. Referee and SCL director Ilkka Kinnunen looks like he's fully ready to jump in and take over if necessary. IronMind® | Courtesy of SCL




"Day 2 started with Car Dead Lift for reps, an event won by Jean-Francois Caron who made a striking 12 repetitions with a 450-kg weight. Next, Bjorn Solvang had no problems winning his world record discipline, the Front Hold. The last event in the competition, the IronMind Loading Race was won by Matjaz Belsak with his amazing time of 30.52 seconds with 4 bags of 125 Kg to load in pick ups.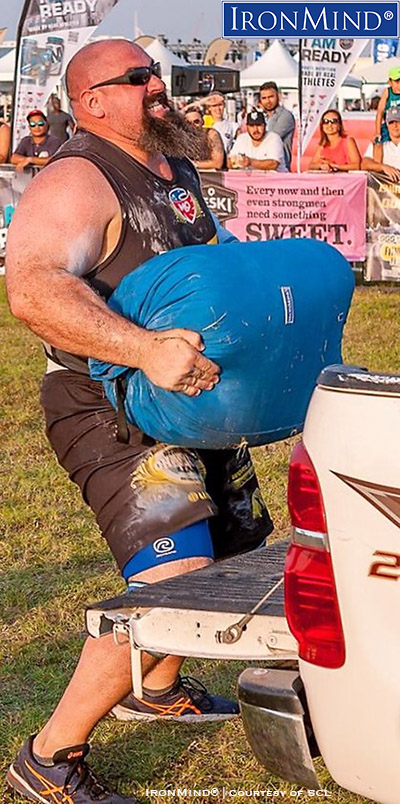 Eric Dawson on the IronMind Sand Bag Loading Race. IronMind® | Courtesy of SCL
 "Among the cash prizes for all athletes, Dainis  Zageris, Radzikowski and Belsak received also products by MLO Nutrition and IronMind.

Final Results MLO Strongman champions League 2016
| | | | |
| --- | --- | --- | --- |
| 1. | Dainis Zageris | Lativa | 56 |
| 2. | Krzysztof Radzikowski | Poland | 48 |
| 3. | Matjaz Belsak | Slovenia | 46 |
| 4. | Jean-Francois Caron | Canada | 43 |
| 5. | Martin Wildauer | Austria | 43 |
| 6. | Alex Moonen | Holland | 38 |
| 7. | Eric Dawson | USA | 37 |
| 8. | Lauri Nami | Estonia | 30 |
| 9. | Bjorn Solvang | Norway | 21 |
| 10. | Andreas Altmann | Germany | 20 |

"With new places on the calendar,  1 Kg of gold for the champion besides all the other prize money, over 16 stages, broadcasting in almost 100 countries next year and in its 10th year, the MLO Strongman Champions League can be seen truly as the biggest strongman league in the world.

"Kick off for the 2017 MLO Strongman Champions League is 28 January in Norway," said Mostert.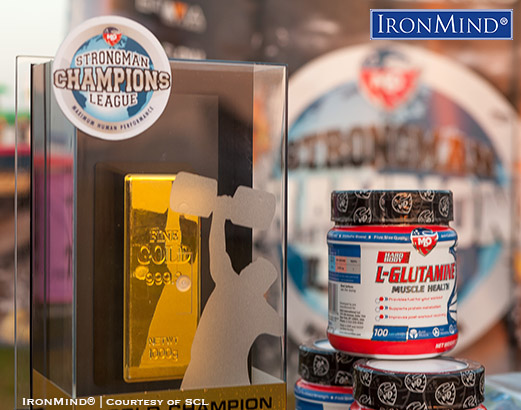 SCL has developed the world's dominant professional strongman tour, and the prize list for the 2016 MLO Strongman Champions League world championships included this 1-kg gold bar. IronMind® | Courtesy of SCL


                                       ###



You can also follow IronMind on Twitter and on Facebook.                        



Want to talk grip, strongman, weightlifting . . . everything strength? Visit the IronMind Forum.