Calling it "the world's toughest strongman league," SCL cofounder Ilkka Kinnunen announced the sixth contest of this year's 15-round strongman series: it is set for Alahärmä, Finland, coinciding with Scandinavia's largest Power Truck Show.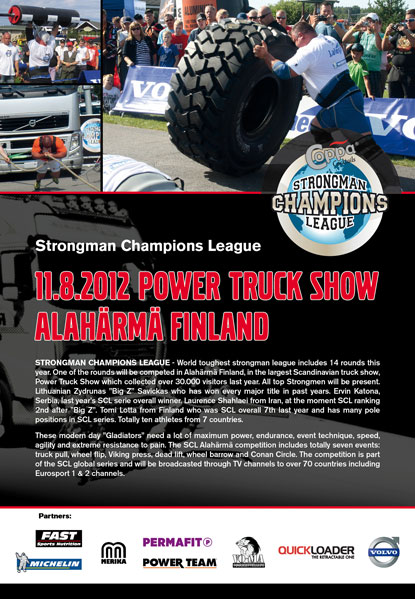 The SCL Power Truck Show will bring some of the world's top professional strongman competitors to Finland tomorrow, August 11. IronMind® | Courtesy of SCL.


The field will include top names on the strongman circuit including:

• Zydrunas Savickas
• Terry Hollands
• Misha Koklyaev
• Ervin Katona
• Martin Wildauer
• Akos Nagy
• Lauri Nämi

"All these athletes are heading also this year's WSM [World's Strongest Man 2012] competition so they will be in top shape," Kinnunen told IronMind.

"The list will continue with Lars Rorbakken from Norway and don't forget the Finns, starting with Juha Matti Järvi, who just broke the Finnish Log Lift National record. The new record is 175.5 kg. Juha also got now an invitation to the Log Lift World Championships and there for the first time ever, 180 kg will be broken by the Finns. Antti Mourujärvi, Jarno Kirselä and Jonne Illikainen will also represent Finland, for a total of 12 athletes," said Kinnunen.

There will be six events—Tire Flip, Truck Pull, Viking Press, Wheelbarrow, Yoke Race and Foward Hold—and because this is SCL and because it's in Finland, especially, you know they will be heavy.

As will the whole SCL series, Kinnunen said there will be worldwide TV broadcasts to almost 100 countries, and "in Finland, the SCL TV partner is MTV3 and MAX channels.

"This one you don't want to miss."

###

The IronMind Forum: discuss this article, talk strength, get help with your training.

You can also follow IronMind on Twitter.