SCL Log Lift, Overhead Lift World Championships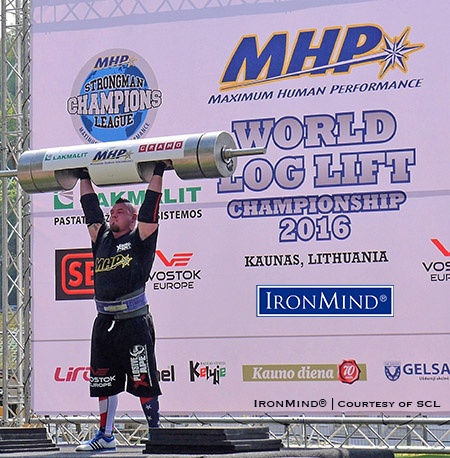 Tomorrow (May 20), Kaunas, Lithuania will host the 3rd stage of the MLO Strongman Champions League, where a new concept will be launched, SCL director Marcel Mostert told IronMind.

Robert Kearney, co-winner (along with Vidas Blekaitis) of the 2016 SCL Log Lift World Championships, with a top lift of 202.5 kg. IronMind® | Photo courtesy of SCL

"The Log and Overhead World Championships will crown two new world champions," said Mostert, with one title for the strongest log lifter in the world, currently held by Vidas Blekaitis and Robert Kearny—the joint winners last year.

"And one new title for the best Overhead lifter in the world; this overhead lift title contains four disciplines: Log Lift , Axle Lift , Viking Press and Block Lift.
 
The following athletes will compete here:
 
Vidas Blekaitis        Lithuania( title defender 2016)
Graham Hicks        England ( world record holder FIBO log)
Vytautas Lalas        Lithuania (number 3 from 2016)
Jared Leask           South Africa
Jyri Vytiska             Czech
Ivan Makarov         Georgia
Oskars Martuzans Latvia
Dennis Kohlruss      Germany
Marcin Sendwicki    Poland
Alex Moonen          Holland
Will Baggott            UK
Martynas Brusokas Lithuania
 
"Let's see who will be crowned with a new world title in the land of the log lift legend Zydrunas Savickas," said Mostert.
 
Follow it live on www.strongmanworldserieslive.com
 
                                                        ###



You can also follow IronMind on Twitter, Instagram and on Facebook.                        



Want to talk grip, strongman, weightlifting . . . everything strength? Visit the IronMind Forum.