SCL Latvia Set for the Riga Arena
"This Saturday, the 12th episode of the Monster Milk Strongman Champions League will be staged, at the biggest Ice hockey arena from Latvia, the Riga Arena," Marcel Mostert told IronMind.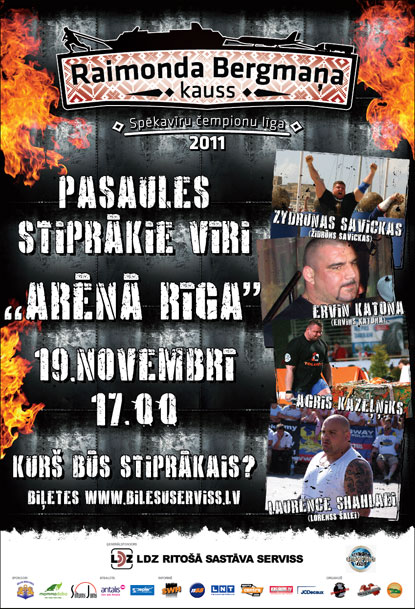 Raimunds Bergmanis organized SCL Latvia, which will bring some of the biggest names in strongman to Latvia's largest hockey arena this weekend. IronMind® | Courtesy of SCL.


"It will be spectacular for sure, with names as Zydrunas Savickas, Ervin Katona, Laurence Shahlaei, Konstiantyn Ilin and Jean-Francois Caron from Canada.

"12 competitors in total will be at the second to the last Champions League competition in 2011.

"They come for the title on Saturday, but even as important are the SCL points they all want to win, for a place in the finals which will be held in Kiev, Ukraine on 17 December.

"It will be a fantastic show in Riga, with dancing, drums and bagpipes, singers and honoring as well the famous Raimunds Bergmanis as we celebrate his 15th anniversary in strongman. Besides his friendly personality, he was a fantastic strongman in his glory days and now a great organizer.

"The whole day will be filled with shows and really heavy events are waiting for the athletes:

• Powerstairs 225, 250, 275 kg

• Wheelbarrow push ~330 kg

• Viking press 160 Kg

• Medley (tire flip + farmer walk)

• Yoke 430 kg

• Atlas stones 100-200 kg

"We welcome you all to the Strongman Champions League Latvia 2011, Saturday 19 November!"

###

The IronMind Forum: discuss this article, talk strength, get help with your training.

You can also follow IronMind on Twitter.