SCL Holland: World Record, Dutch Record in the Log Lift
The Log Lift was on the ropes at SCL–Holland this weekend as Zydrunas Savickas broke the world record and Jarno Hams broke the Dutch record, Marcel Mostert reported to IronMind.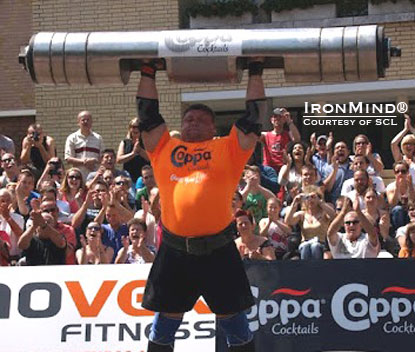 Zydrunas Savickas boosted the Log Lift world record to 217.5 kg at the SCL–Holland strongman contest this weekend. This was done on the old IFSA log, "not some midget log," Marcel Mostert would note. IronMind® | Photo courtesy of SCL.


"It was truly a great and spectacular event this weekend in Holland," said Mostert.
"28 degrees, sunny , fully-packed crow , 14 of the best strongman athletes in the world and a solid organization where the ingredients last weekend for the 4th SCL Stage of the Coppa Cocktails Strongman Champions League.
We had the privilege to see a world record on the big log from Zydrunas Savickas: 217.5 kg.

"What are the limits of Zydrunas Savickas? We still don't know . . . does he have limits?

"Zydrunas won also the Truck Pull and finished as the absolute winner in the final standings.

"Laurence Shahlaei had a bad start on the log with only 165 kg, but after 6 heavy events, he finished in second place overall.

"Probably Jarno Hams from Holland had one of his best days, for him really a great day in front of his own crowd! He took a new Dutch record in the log with 182.5 kg and also in the other events he was in super shape. It resulted in a third place in the overall final standings, just half point behind Laurence Shahlaei."

Here is a link to some contest hightlights video clips, and these are the top ten places, officially:
| | | |
| --- | --- | --- |
| 1. | Zydrunas Savickas | 75.0 |
| 2. | Laurence Shahlaei | 68.0 |
| 3. | Jarno Hams | 67.5 |
| 4. | Ervin Katona | 66.0 |
| 5. | Warrick Brant | 61.5 |
| 6. | Etienne Smit | 50.5 |
| 7. | Paul Pirjol | 46.0 |
| 8. | Jan Wagenaar | 42.0 |
| 9. | Tomi Lotta | 32.0 |
| 10. | Levio Veoga | 28.5 |
"Unfortunately, we don't have much time to enjoy the success and victory of the last weekend, as we are all traveling today already to Shanghai, China, where we will do a 4-day special event: The SCL Shanghai Cup," said Mostert.

"Stay tuned for the results coming days!"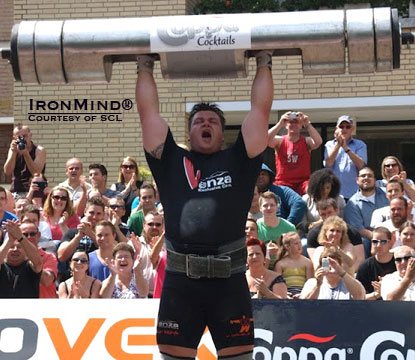 Jarno Hams broke the Dutch record in the Log Lift with this 182.5 kg success. IronMind® | Photo courtesy of SCL.

###

The IronMind Forum: discuss this article, talk strength, get help with your training.

You can also follow IronMind on Twitter.