SCL Finland Features Top Lineup
The MHP Strongman Champions League comes to Vaasa, Finland next weekend, featuring a top lineup of professional strongman competitors.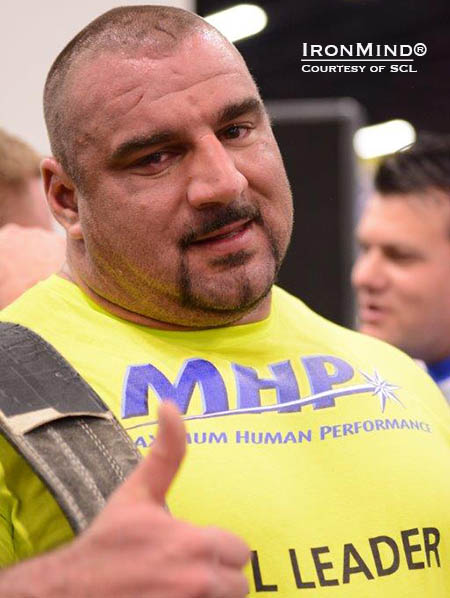 Currently in the SCL leader's shirt, Ervin Katona is part of the field of top professional strongman competitors slated to compete in Finland this coming weekend. IronMind® | Photo courtesy of SCL


"Ervin Katona is leading at the moment, but Thor is coming strongly as he won the last competition in Serbia and is ready to challenge Ervin and others in Vaasa," SCL cofounder Ilkka Kinnunen told IronMind today.

Here's the official start list:

Thor Björnsson

Ervin Katona
Martin Wildauer
J.F. Caron

Lauri Nämi

Marius Lalas

Dainis Zageris 

Kevin Larsen

Patrick Odwyer 

Antti Mourujärvi

Jarno Kirselä 

Arttu Parviainen

"The competition will start both days at noon, in the center of Vaasa, and here are the events.

First day: Saturday 14.6.

• YOKE RACE / FRAMEWALK MEDLEY - total of 40m, Yoke 420kg, Frame 330kg
• PRESSING MEDLEY - 150kg Log, 90kg Circus Dumbbel x2, 170kg Log
• BUS PULL - with Harness only

Second day: Sunday 15.6.

• DEADLIFT FOR REPS - 360kg
• FORWARD HOLD - 30kg
• HOUSE FRAME WALK /SACK LOADING MEDLEY: 350-kg House Frame, 110-kg sacks

"After Vaasa, MHP Strongman Champions League continues in Holland 21st of June and week after in Latvia 28th of June. Stay tune and look the results after competition to first to come up here in Ironmind News," said Kinnunen.


###



Want to talk strength? Join the IronMind Forum.

You can also follow IronMind on Twitter and on Facebook.