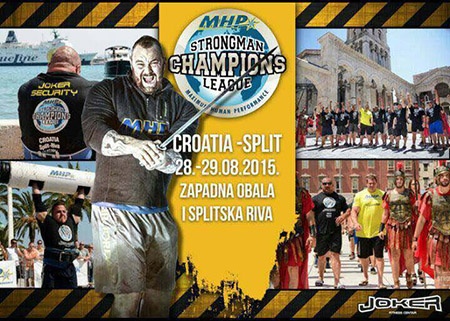 With the second half of its 2015 season about to start, Strongman Champions League (SCL) heads to Croatia.


MHP SCL Champions League Croatia Starts Tomorrow
By Aryn Lockhart

The 7th stage of the MHP Strongman Champions League is about to get underway in picturesque Split, Croatia with a two day event starting tomorrow. The current SCL leader, Krzysztof Radzikowski, is preparing for a tough battle with Haftor Bjornsson and Dainis Zagaris, tied for second and looking to take the lead. The first event will be the truck pull starting on Friday with the remaining events taking place on Saturday.  The remaining five events include the car deadlift, dumbbell lift, frame walk, yoke race and Conan's wheel.

The competition is heating up and so too will the temperatures for the weekend. Athletes from around the world are ready to battle it out. Stay tuned for results and the latest in the ultimate battle for the Leader shirt.

Competing Athletes
Andreas Altmann - Germany
Dainis Zageris - Latvia
Kzysztof Radzikowski - Poland
Hafthor Bjornsson - Iceland
Adin Arnaut - Bosnia and Herzegovina
Marc Vandhaer - South America
Akos Nagy - Hungary
Milan Dotlic - Croatia
Stojan Todorchev Bulgaria
Simon Sulaiman - Syria
Martin Vrilic - Croatia
Matjaž Belšak - Slovenia


                                                         ###



You can also follow IronMind on Twitter and on Facebook.                        



Want to talk strength?  Join the IronMind Forum.