SCL Comes to Poland This Weekend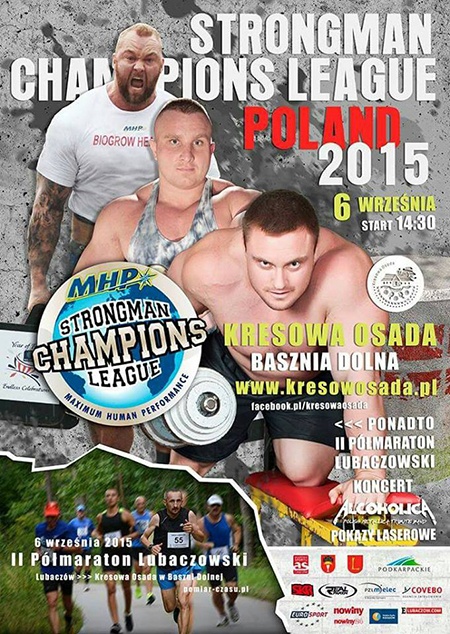 SCL continues to roll out the second half of its 2015 season, and this weekend Poland will host a dozen top strongman competitors —including Krzysztof Radzikowski, Grzegorz Szymanski, Mateusz Baron, Vidas Blekaitis, Dainis Zageris and Lauri Nami. 



Strongman Rage's Aryn Lockhart previews the competition, from an insider's perspective, for IronMind.


Come and Get It: Krzystof Radzikowski is Ready for his Homeland Battle in SCL Poland
by Aryn Lockhart/Strongman Rage

In his home country of Poland, Krzysztof Radzikowski prepares to continue his quest of becoming the MHP Strongman Champions League world champion. Currently, he holds the Leader shirt, 32 points ahead of Hafthor Bjornsson in the overall standings. With four back to back competitions on the schedule, athletes are preparing for the intense second half of the season. SCL Poland is the 8th stage, with SCL Austria and Martin Wildauer's highly anticipated comeback on the horizon.

"It looks like Krzysztof has a big lead, but there are a lot of competitions left," stated Marcel Mostert, SCL Director. "Poland will not disappoint. We have some amazingly strong Polish competitors to include Grzegorz Szymanski, who won SCL Holland, and Mateusz Baron, who won the Arnold's Classic Amateurs in 2011."


In a country that eats and breathes strength, SCL Poland is going to be intense. There will be six events for the competition: Power Stairs, Medley (Yoke /Farmer's Walk), Deadlift, Truck Pull, Atlas Stones, and Viking Press. Stay tuned for more details and results.

Competing Athletes
1) Krzysztof Radzikowski Poland
2) Grzegorz Szymanski Poland
3) Mateusz Baron Poland
4) Vidas Blekaitis - Lithuania
5) Matjaz Belsak - Slovenia
6) Dainis Zageris - Latvia
7) Lauri Nami - Estonia
8) Sebastian Kurek Poland
9) Antti Mourujarvi - Finland
10) Johan Espenkrona - Sweden
11) Akos Nagy - Hungary
12) Čestmír Šíma. – Czech

Top 20 Overall ranking after Croatia
1 KRZYSZTOF RADZIKOWSKI - POLAND 119 2 SCL Win
2 HAFTHOR JULIUS BJORNSSON - ICELAND 87 3 SCL Win
3 DAINIS ZAGERIS - LATVIA 72 1 SCL Win
4 JEAN FRANCOIS CARON - CANADA 42
5 MATJAZ BELSAK - SLOVENIA 40
6 ZYDRUNAS SAVICKAS - LITHUANIA 36
7 ALEX MOONEN – HOLLAND 32
8 STOJAN TODORCHEV- BULGARIA 30
9 GRZEGORZ SZYMANSKI – POLAND 25 1 SCL Win
10 ERVIN KATONA - SERBIA 22
11. OSKARS MARTUZANS - LATVIA 18
12 LAURI NAMI - ESTONIA 16
13 RAUNA HEINLA - ESTONIA 15
14 ANDREAS ALTMANN – GERMANY 14
15 MARIUS LALAS - LITHUANIA 12
16 DIDZIS ZARINS - LATVIA 12
17 OLE MARTIN HANSEN - NORWAY 11
18 LUKE STOLTMAN - GREAT BRITAIN 11
19 BJORN SOLVANG - NORWAY 10
20 VELIZAR MITOV – BULGARIA 10

                                                    ###



You can also follow IronMind on Twitter and on Facebook.                        



Want to talk strength?  Join the IronMind Forum.