SCL China: "The Biggest Event in Strongman History"
"We had 32 athletes from 31 countries, all professionals . . . that's never been done before," Marcel Mostert told IronMind today as he recapped Strongman Champions League–China. "It was the biggest event in strongman history."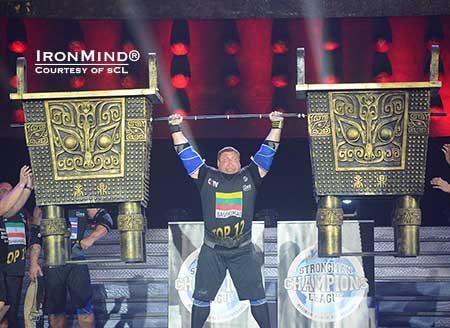 SCL–China: out of the 32 top strongman competitors who started, it came down to the final two, who dueled on the Jar Lift, an unwieldy overhead lift. Zydrunas Savickas won, taking home US$10,000 in the process. IronMind® | Photo courtesy of SCL.


Asked what motivated him to stage such a massive strongman contest, Mostert said, "To have a bigger challenge in my life . . . we wanted to make a brand new format.

The 32 strongman competitors were divided into two team, Red and Blue, with Zydrunas Savickas as the captain of the Red team and Laurence Shahlaei captain of the Blue team. Borrowing from reality TV, competitors were eliminated each day—and they did not just fade away, but were publicly identified as they were cut and then further put in the limelight by, for example, being assigned to work on a farm or in a restaurant the next day, Mostert said.

After the field had been whittled down to the top 12 competitors, three events—Yoke Race, Deadlift for reps, Atlas Stones—were used to rank the competitors and the top two went on the Jar Lift, a dramatic overhead lift that pitted Zydrunas Savickas against Hafthor Julius Bjornsson, with Zydrunas taking the victory.

Mostert said that had Krzysztof Radzikowski not been injured, he might have made the final pair and since he is also capable of putting pressure on the Big Z on overhead lifts, that was a much-anticipated possible showdown. Mostert said that Radzikowski's injury was not serious and that he thought he'd be fully recovered in a about two weeks. Not so fortunate was Tritan O'Brien, who tore some ligaments in his knee, the only serious injury in the contest.

As with all Strongman Champions League contest, SCL China will be broadcast in 85 countries and it has already received major media coverage worldwide Mostert told IronMind.

"Everything worked perfectly and we had some good luck," Mostert said. "Me and Ilkka [Kinnunen] are proud."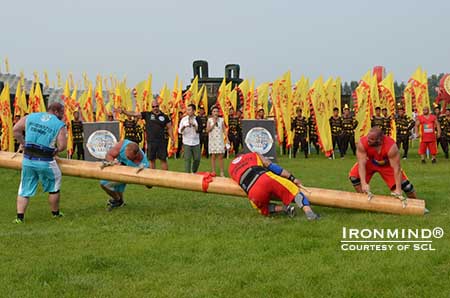 The Pole Push takes on added drama in the team format used in SCL–China. IronMind® | Photo courtesy of SCL China.

For full details on the MHP Strongman Champions league, including more photos from SCL–China, please follow this link.

### 



The IronMind Forum: discuss this article, talk strength, get help with your training.

You can also follow IronMind on Twitter and on Facebook.