SCL China Day 3: "Only the Strongest Survived"
"We just finished the 400-kg Deadlift for reps and only eight athletes could lift the car: Jean-Francois Caron did an amazing 8 repetitions, beating Zydrunas Savickas, who did 5 reps, followed by Katona, Shahlaei and Kazelniks, with 3 repetitions," Ilkka Kinnunen reported to IronMind.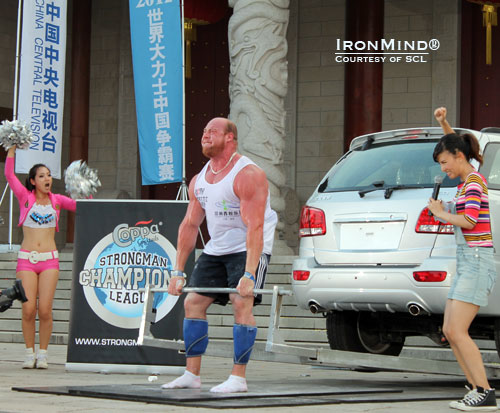 Jean-Francois Caron won the 400-kg car deadlift at SCL–China, beating Zydrunas Savickas by 3 reps. IronMind® | Courtesy of SCL.


"We started the day with the Hercules Hold on the bridge, with two cars one each side giving the correct weight for the hands, 240 kg. Ervin Katona was the strongest with time 28.28 sec, followed by J.F. Caron with time a 26.27sec and third was Laurence Shahlaei with time 25.09 sec.

"After the Hercules Hold we moved to the nice venue in the front of the museum doing the Truck Pull. The Truck Pull was done by pairs and you know it was a heavy Truck Pull when the winning time from Zydrunas Savickas was 39.67 sec, the second place time was Ervin Katona at 40.87 sec, Laurence Shahlaei came in third with time 43.85 sec and the rest of the field struggled to finish, all close to fifty seconds," said Kinnunen.

Through today, here are the top three, officially:

| | | |
| --- | --- | --- |
| 1. | Zydrunas Savickas | 125.0 |
| 2. | Ervin Katona | 123.5 |
| 3. | Laurence Shahlaei | 122.5 |
Don't go away because there's more coming: "Tomorrow again we have three heavy events—Giant Dumbbell for reps, Pole Push and Loading Race with various Chinese objects," Kinnunen said.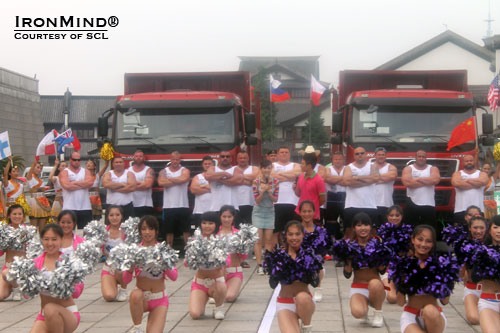 Group shot before the Truck Pull, and a really heavy one at that. IronMind® | Courtesy of SCL.

###

The IronMind Forum: discuss this article, talk strength, get help with your training.

You can also follow IronMind on Twitter.