SCL China: 32 Start, 12 Dropped . . . 8 More to Go!
"After three days of tough competition in 35 degree temperatures [95 F], 12 athletes have been eliminated so far from the starting field of 32 competitors," SCL cofounder Ilkka Kinnunen reported to IronMind today.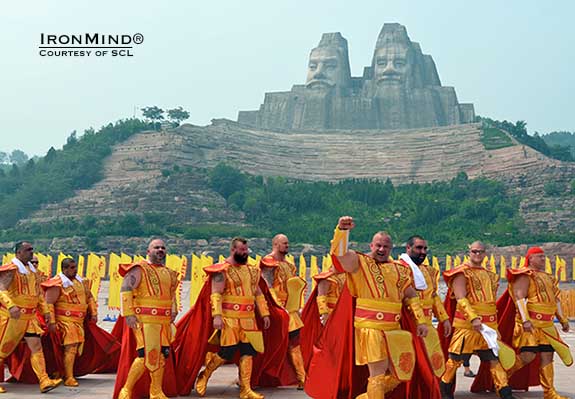 Big, powerful, spectacular—that's strongman, right? So how's this for the opening show of SCL-China: Strongman, Shaolin monks and Chinese emperors make for a dramatic entry. IronMind® | Photo courtesy of SCL.


"The opening show was spectacular with more than a thousand warriors from the famous
Shaolin martial arts school marching with our athletes in front of a big mountain shaped with the faces of the first and second emperors of China.

"we started with two teams of 16 athletes each, a blue team and a red team. It is very exciting to see how our new format works on these athletes, because the enthusiastic team spirit brings the best in them up very easily.

"So far there are two teams of 10 athletes each left. A perfect scenario so far. Tomorrow we are heading to the airport to do the Plane Pul and the Human Team Farmer's Walk.

After that, again 8 athletes will be eliminated, so we will have 12 athletes in the finals on the last day who will fight for the ultimate title.

"Krysztof, Zydrunas, Laurence, Ervin, Dainis and are still in, divided over 2 separate teams," Kinnunen said, "So, stay tuned for the 12 finalists and their end results."

###

The IronMind Forum: discuss this article, talk strength, get help with your training.

You can also follow IronMind on Twitter and on Facebook.