SCL Brings Team Format to Estonia
Featuring a team format, the MHP Strongman Champions League will be bringing "the biggest international strongman competition ever organized in Estonian history" to Tallinn this Saturday, October 5, Ilkka Kinnuen told IronMind today.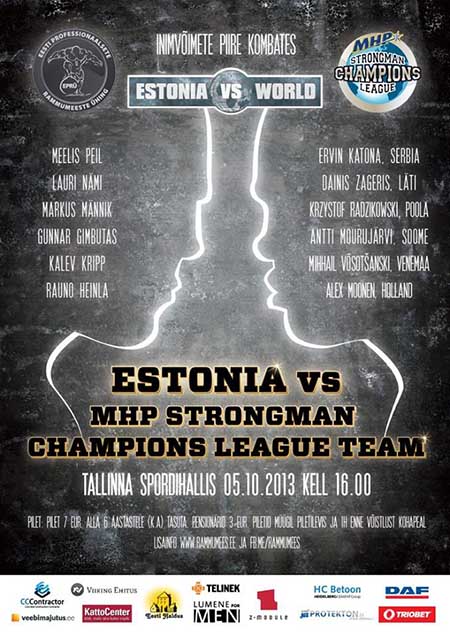 This Saturday in Tallinn, Estonia, the MHP Strongman Champions League team will face Team Estonia. IronMind® | Image courtesy of SCL.



Team MHP SCL
Ervin Katona
Krzysztof Radzikowski

Dainis Zageris

Antti Mourujärvi
Alex Moonen

Mikhail Vysotchanski


Team Estonia
Lauri Nämi
Markus Männik
Gunnar Gimbutas

Rauno Heinla
Kalev Kripp
Meelis Peil

Events
1. Farmer's Walk 150kg + Sand Bag 125 kg + Tire Flip 400 kg x 4
2. Super Yoke 400 kg
3. Viking Press 150 kg
4. Conan's Wheel 300 kg
5. Forward Hold 30 kg
6. Atlas Stones 100, 120, 140, 160, 185, 212 kg

###



Visit the IronMind Forum: talk strength, discuss this story. Strongman, grip, Highland Games, Olympic lifting, stones and more.

You can also follow IronMind on Twitter and on Facebook.