SCL "BRUTAL EDITION" at Arnold Brazil
On April 25 and 26, the MHP Strongman Champions League will its first 'Brutal Edition' at the Arnold Classic Brazil, with two separate competitions.
In fact there are 2 separate competitions.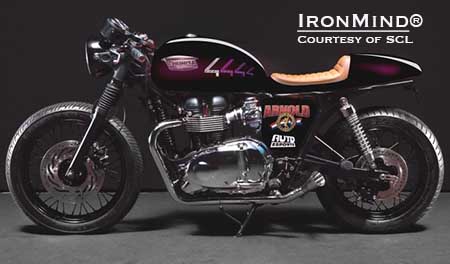 This commemorative motorcycle, along with some cash, will the prize at Friday's "Brutal Edition" SCL competition at the Arnold–Brazil. IronMind® | Image courtesy of SCL


The Deadlift, Atlas Stones and Log Lift for max will be featured on Friday, with the winner getting a special motorbike and prize money, for a total value of US$12,500.

Saturday's competition will be on the dumbbell press and the winner will get a very special watch and prize money, for a total value of US$6,000.

"The weights will be 'brutal,' same as the athletes and their last titles, listed below:

Zydrunas Savickas - Lithuania Current World Strongest Man 2014
Hafthor Bjornsson -Iceland Vice World Strongest Man 2014
Krzyzstof Radzikowski - Poland SCL World champion 2013
Ervin Katona - Serbia Current leader SCL 2014
Brian Shaw - USA World Strongest Man 2013
Dainis Zageris - Latvia 4th SCL Overall 2013
Lauri Nami - Estonia 6th SCL Overall 2013
Mike Burke - USA 4th World Strongest Man 2014
Marcos Ferrari - Brasil Strongest Man Brazil 2013

"It promises to be an awesome 'Brutal Edition,' with a lot of media coverage in Brazil," Marcel Mostert told IronMind.

"The MHP Strongman Champions League will be also perform in a few other big shows that week, such as GE - GLOBO ESPORTE Program, BDBR - BOM DIA BRASIL, the JG - JORNAL GLOBO and the JN - JORNAL NACIONAL
.

"All these programs together are viewed by 75 million viewers in Brazil. The competition itself will be broadcast by Globo TV, the biggest channel in Brasil. Arnold Schwarzenegger himself will give the prizes."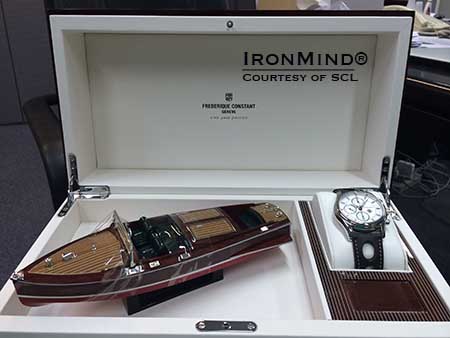 This commemorative watch is part of the prize package on the second day of competition at the second day of competition in Brazil. IronMind® | Image courtesy of SCL

###



Want to talk strength? Join the IronMind Forum.

You can also follow IronMind on Twitter and on Facebook.