SCL Announces 2011 Log Lift World Championships
"On 12 February we will organize the World Championships of Log Lifting again," Strongman Champions League (SCL) cofounder Marcel Mostert told IronMind today, "and it will be broadcast live on Eurosport."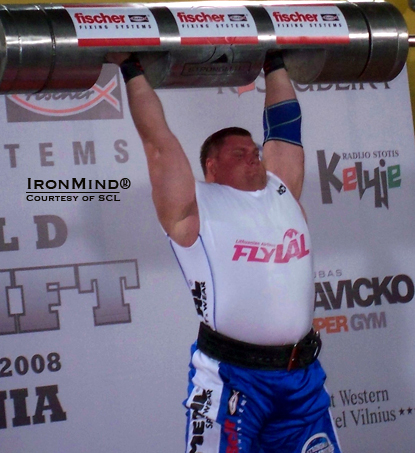 If it's an overhead world record in strongman, Zydrunas Savickas probably owns it, so when it comes to the SCL Log Lift World Championships, the Big Z will be aiming to break his own record, along with winning the contest. IronMind® | Courtesy of SCL.


Staged in the Siemens Area, which Mostert said is the "the biggest arena in Vilnius, Lithuania," this event will feature Zydrunas Savickas, Misha Koklyaev and Vidas Blekaitas—three strongman who are fully capable of exceeding 200 kg in the log lift. This contest will also showcase the comeback of Finnish strongman Tomi Lotta, who "is already in a great shape and we heard he is doing already 180 kg," said Mostert

"In total, 12 athletes will be invited to fight for the title, and it will be done with the very difficult steel log out of the former IFSA series," said Mostert. "Also that day there will be the national Lithuanian team championships together with dancers and other performers."
###


Want to comment on this article or just want to talk strength? Join the IronMind Forum!

You can also follow IronMind on Twitter.