Santo Domingo - Nobody else in the 85-kg category could snatch 173, 174 or 175 kg, but Andrei Rybakou (Belarus) opened with 180, for a good lift, and then he set his sights on breaking his own world record by taking a shot at 187, only to miss it, closely, twice at the World Weightlifting Championships today.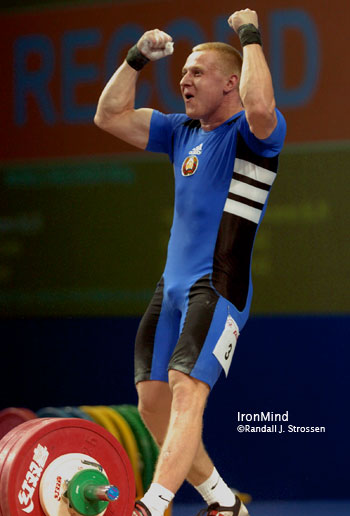 Andrei Rybakou about to explode on his third attempt snatch: a 187-kg attempt to break his own world record. IronMind® | Randall J. Strossen, Ph.D. photo.
We might call him the world's best master, as 36-year-old Aslambek Ediev (Russia) got the bronze medal in the clean and jerk with his third attempt of 201, and that was a nice complement to his bronze in the snatch (172) and silver in the total.

203 proved to be a pivotal weight, as Roman Khamatchin (Russia) and Andrei Rybakou both made it on their second attempts - both would go on to try a lot more on their third attempts, but the 203 was good enough to give Khamatchin the silver in the jerk and it gave Rybakou two more golds to add to the one he had already won. Six attempts followed, including Rybakou taking a shot at 210 and Khamatchin taking one at 211, but none succeeded - Khamatchin gave 211 a good ride and had the bar to arms' length overhead, but couldn't fix it.