Ryan Vierra Wins in Fergus
Fergus, Ontario - Call it Scottish Athletics, Heavy Events or just Highland Games, but Ryan Vierra won the World Championships today.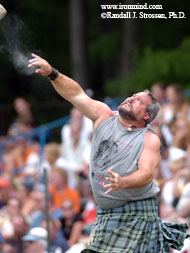 "Fly," Ryan Vierra says to the Braemar Stone (Fergus, Ontario). Nice vapor trail. IronMind® | Randall J. Strossen, Ph.D. photo.

They began in rain, finished with some sun, and at the end of the day, Ryan Vierra was crowned champion, with the top positions from yesterday holding through today's final order: Ryan Vierra, first; Sean Betz, second; and Harrison Bailey, third.