Ryan Vierra Wins at Pleasanton, Shannon Hartnett Retires Undefeated
Ryan Vierra and Shannon Hartnett each added another victory to their impressive records as champions at Pleasanton, with Vierra picking up his sixth overall title and Hartnett getting her 15th, as she has, quite simply, won every single year there has been a women's class.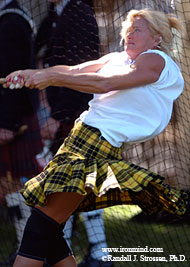 Taking her final throw, Shannon Hartnett - who opened the door to Highland Games Heavy Events for women and who is an inspiration to many people - hammers the field one last time at Pleasanton, California. IronMind® | Randall J. Strossen, Ph.D. photo.

Coming off his win at the World Championships, Ryan Vierra was the man to beat in the Open Class, and also based on the results from Fergus, Sean Betz was favored to push Ryan the hardest. And that's how things turned out, with Vierra taking the win with 16.5 points, followed by Betz in second, with 20 points, and Ken Lowther taking third, with 34 points.

Earlier, Shannon Hartnett had announced that this would be her final Highland Games - Hartnett is Highland Games for women, because she not only opened the door, but she also has proved to be virtually unbeatable since she first walked onto the field.

In a special awards ceremony for the woman whose fame and influence far exceed even her longest throws, Shannon, who was showered with accolades, thanked Jan DeSoto for introducing her to the Highland Games and her parents, "for always being there for me."