Ryan Vierra Highland Games Clinic/Arizona Rolling Thunder® Competition
You can expect big things to happen when John Godina's World Throws Center offers a Highland Games Clinic with Ryan Vierra - things got even bigger when Francis Brebner joined the team this past weekend.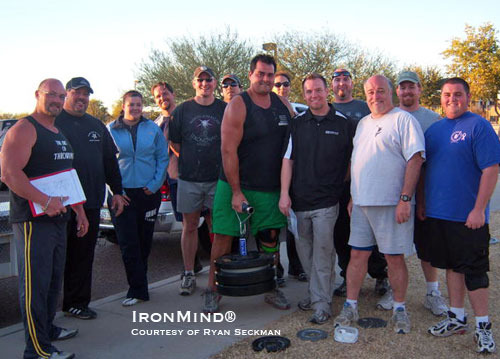 John Godina, Ryan Vierra and Francis Brebner teamed up to run a Highland Games clinic this past weekend, with a Rolling Thunder® contest capping off the fun. Highland Games pro Andrew Hobson (center) took top honors in the Rolling Thunder®. IronMind® | Photo courtesy of Ryan Seckman.

Arizona Scottish Games Athletic Director Ryan Seckman told IronMind®, "With notebooks, cameras and video recorders in hand the 15 athletes who made the investment in their futures as Highland [Games] athletes listened intently to what Ryan and Francis had to say."

That would have been plenty, but everyone in the clinic also had the incredible opportunity of learning directly from John Godina, so watch for a pile of PR putts from this group.

And if that's not enough - throwing all day long - the clinic was capped off with what Ryan Seckman billed as, "The first-ever Scottish Games Rolling Thunder competition in Arizona." Andrew Hobson won with 182 pounds (total weight), with Richard Kahle just barely missing that weight and coming in second.