Ryan Vierra: Five-Time Highland Games World Champion is Taking One More Shot at the Worlds
"Ryan Vierra has made it public that this next year will be his last competing at world championship level. After 20 years competing at the highest pinnacle in the sport and winning numerous major titles, including the World Heavy Events Championship no fewer than five times, Vierra will call it a day," Brebner said.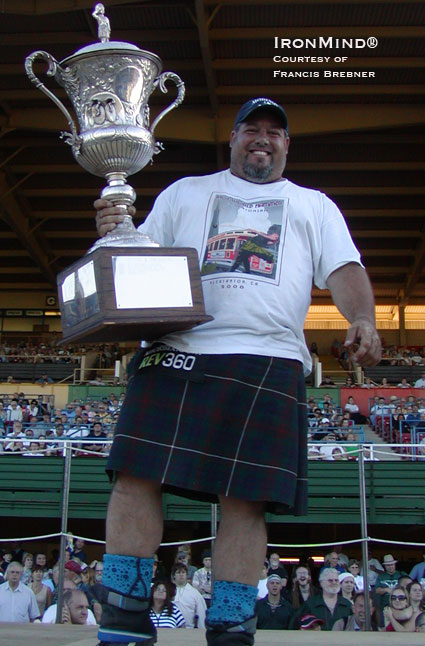 Among his many honors in the sport, Ryan Vierra received the Chief's Trophy at Pleasanton, California in 2008 - the first time in the 146-year history of the Caledonian Club of San Francisco that a heavy events athlete has earned this distinction. IronMind® | Photo courtesy of Francis Brebner.

Vierra plans to put in one last hard winter's training in preparation for next year's series of World Championship events, with his sights set on the International Highland Games Federation (IHGF) World Championships, which is scheduled for Victoria, British Columbia, Canada in mid-May.

Vierra said, '" have had a good run in the Highland Games and have enjoyed it very much. I have made many friends all over the world, and I will not be cutting my ties totally with Highland Games as I will still plan to compete in some local Highland Games events.

"I will also be giving more of my time and attention to being part of the International Highland Games Federation," said Vierra, as he shifts his attention to promoting IHGF events internationally, while working closely with David Webster and Francis Brebner.

"I believe between the three of us we can bring traditional Highland Games to a whole new level," Vierra told Brebner.