Russian Star Evgeny Chigishev Might Start at the European Weightlifting Championships
The preliminary start list for the men's super heavyweight class at the upcoming European Weightlifting Championships includes Evgeny Pisarev and David Kadanets for Russia in this most prestigious bodyweight category, not Olympic silver medalist Evgeny Chigishev.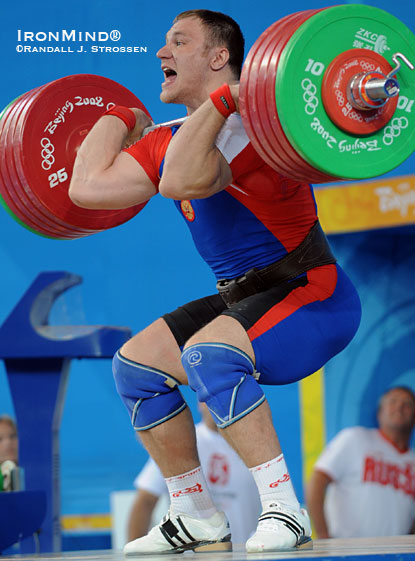 Russia's Evgeny Chigishev on his way up with 250 kg on his final attempt at the 2008 Olympics, where he went six-for-six with sensational lifts of 210 kg in the snatch and 250 kg in the clean and jerk, while weighing just over 124 kg. IronMind® | Randall J. Strossen photo.


But the final decision has not yet been made and Evgeny Tchigishev might still be starting in Minsk, where the top European weightlifters will be competing in early April.

IronMind®'s Russian colleague and correspondent Sergey Klimakov took our questions directly to Russian Weightlifting Federation General Secretary Yuri Teryaev.

Mr. Teryaev explained that Evgeny Tchigishev is with the Russian team in a training camp that will have a final control, to assess results for each lifter and, "Probably those results . . . will affect (change) the list of the Russian team for Minsk and Chigishev can be on that list. Most likely, the final list will be [completed on] March 30. Pisarev and Kadanets hit the [provisional] list in Minsk, as they showed good results in the beginning of this year," Mr. Klimatov reported to IronMind®, based on his conversation with Mr. Teryaev.

This timing is perfectly consistent with the deadline for final entries at the European Weightlifting Championships, so don't yet rule out the possibility of Evgeny Chigishev competing that the upcoming European Weightlifting Championships.