Russian Cup: Uralstrong Brings Strongman to Chelyabinsk
The Iron October sports festival in Chelyabinsk, Russia will feature a strongman competition "hosted by Uralstrong and its president, Dmitry Kononets," IronMind® learned today.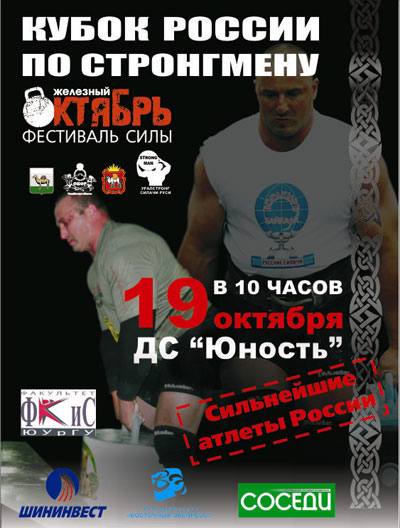 Uralstrong is bringing strongman to Chelyabinsk, Russia on October 19. IronMind® | Artwork courtesy of Dmitry Kononets and Vlad Redkin.


Uralstrong is World Strongman Federation's Russian partner, WSF president Vlad Redkin explained to IronMind®, and the two organizations have close ties. The Russian Cup is scheduled for October 19 and the competitors will be drawn from across the country:

1. Sergey Golubev, Moscow
2. Roman Gavrusik, Krasnoyarsk
3. Mikhail Shivlyakov, Kiselevsk
4. Sergey Kharlamov, Perm
5. Sergey Bykov, Yuzhno-Uralsk
6. Rinat Tugushev, Saratov
7. Evgenij Stametov, Chelyabinsk
8. Alexei Krivosheya, Chelyabinsk
9. Aleksandr Sosnin, Trekhgornyj
10. Valery Chernozubov, Yekaterinburg

The events are listed as:

1. Medley: tire flip + loading
2. Fingal fingers
3. Shield carry: 150 kg
4. Axle deadlift: 5-cm bar, 300 kg for reps, 75 seсonds
5. Log lift: 130 kg for reps, 75 seconds
6. Telehandler (telescopic fork lift) pull

Prize money is listed at over $10,000.