Russia on a Roll: Demanov Wins the 94s
Kazan, Russia - Gold, silver, bronze: 391, 390, 389. It was that close in the 94-kg class at the European Weightlifting Championships, but in the end, 1 kg was worth 10 as hometown hero Andrey Demanov topped the field, thrilling a packed house as he won the gold medal on the last attempt.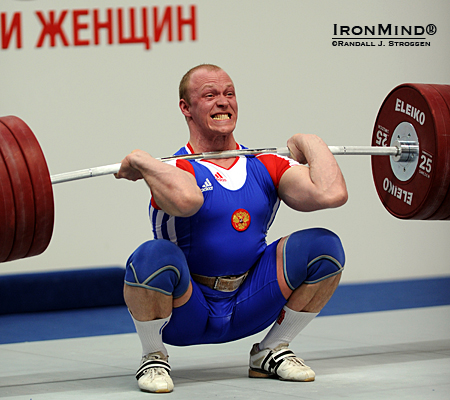 Andrey Demanov made this 219-kg clean and jerk on his second attempt and then had to take 220 kg on his third attempt in a successful bid for the 94-kg gold medal in the total at the European Weightlifting Championships. IronMind® | Randall J. Strossen photo.


Demanov's victory had hinged on the final clean and jerk, but leading up to it, a tie preceded the win.

On his third attempt, Anatoli Ciricu (Romania) had moved into gold medal position with a 217-kg clean and jerk that built on the 2-kg margin he had over Demanov after the snatch. Ciricu was the lighter man, but since they had run out of permitted changes, the Russians had to take 219 kg, a weight that would put Demanov equal to Ciricu on total, but behind him on body weight. Gevorik Poghosyan (Armenia), who had made his second attempt (216 kg) on pure ferocity, was the first out with 220 and he missed the jerk. Next up, and with the last attempt of the contest, was Demanov, who had been celebrating each of his good lifts as if he'd just won the contest.

After some of the showboating, you'd think he'd emptied his gas tank, but Demanov squared off with the 220, never flinched and he launched it for a good lift, a gold medal, and, yes, another celebration.

The silver medal went to Ciricu and the bronze to Poghosyan.

###

IronMind Forum: talk strength, discuss this story. Strongman, grip, Highland Games, Olympic lifting, stones and more.

You can also follow IronMind on Twitter.