Wroclaw, Poland—It's their traditional domain of dominance, the heavier men's categories in weightlifting, and tonight Russia's 94-kg competitor Alexandr Ivanov added to that legacy as he bagged gold medals in the jerk and the total, as well as the silver medal in the snatch.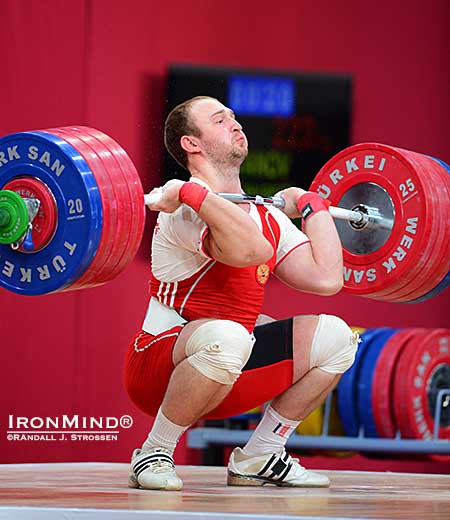 Alexandr Ivanov had missed the jerk on his second attempt (220 kg), but he moved up to 222 kg on his third attempt—in a bid to move into gold medal position at the 2013 World Weightlifting Championships—and he made a good lift. IronMind® | Randall J. Strossen photo


Talk about small things making a big difference, the gold, silver and bronze medals in the snatch were decided on bodyweight, with Aliaksandr Makaranka (Belarus) grabbing the gold medal from Ivanov by virtue of being .04 kg lighter at weigh-ins, and Ivanov edged Vladimir Sedov (Kazakhstan) by a margin of 0.11 kg, but don't think this was just a lucky break for Makaranka because he was the only one of this trio who made all three attempts.

Almas Uteshov (Kazakhstan) was five kg behind the leaders going into the clean and jerk, and he was also heavier than all of them, but he was not going to roll over and play dead at this point. Instead, he made 215 kg, followed by 222 kg, a lift that put the ecstatic lifter into gold medal position, and forced Ivanov to roll the dice: he had missed the jerk on his 220-kg second attempt, and since he was lighter than Uteshov, a 222-kg success would allow Ivanov to leapfrog over the leader on the board.

It was a solid clean, but judging from his second attempt, the success or failure of this lift was going to be decided on the jerk. This time, Ivanov was like a machine on the jerk as he got the bar fixed overhead, but as he recovered he had to fight and fight to keep from losing the bar overhead—he hung on, got the down signal and it was a good lift.

One attempt remained and it belonged to Utehov and he'd just lost the gold medal position in the jerk on bodyweight, but rather than simply aiming to regain it, he wanted the gold in the total as well, so he called for the additional 6 kg that would also give him the gold medal in the total.

Was he played out after his second attempt or was 228 kg simply out of range for Uteshov? I'm not sure, but as Jim Schmitz would say, he got his sports mixed up because instead of cleaning the barbell, he deadlifted it.

That's two in a row for Russia on the men's side, and with two more big classes left, the powerhouse Russian Weightlifting Federation will be coming down the homestretch at full speed, so stay tuned.

###



Visit the IronMind Forum: talk strength, discuss this story. Strongman, grip, Highland Games, Olympic lifting, stones and more.

You can also follow IronMind on Twitter and on Facebook.