Ruslan Nurudinov Wins the 105s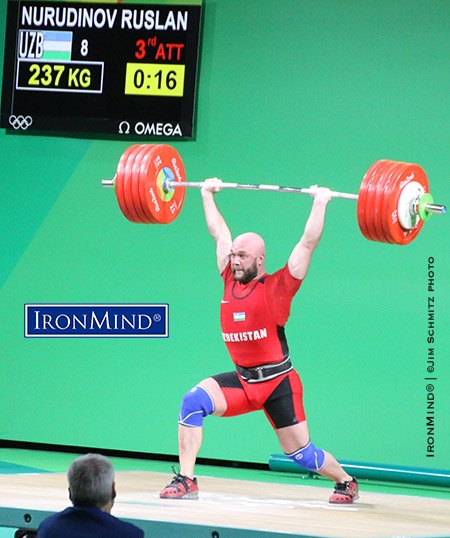 As the weightlifting in Rio heads toward the finish line, Ruslan Nurudinov (Uzbekistan) won the gold medal in the 105-kg category.


Rio Report: Men's 105-kg Class

by Jim Schmitz



Without Ilya Ilyin lifting, I thought Uzbekistan's 24 year old Ruslan Nurudinov would win the gold medal, he didn't let me down, but Armenia's 19-year old Simon Martirosyan gave him a run for the gold as he cleaned and jerked 234 which would have put him in first place except his right arm buckled at the last moment in his jerk. 



Ruslan then went on to show us that wouldn't have been enough as he cleaned and jerked the Olympic record 237.  

Ruslan is always smiling when he is lifting: he says it relieves the stress.  



Another great crowd enthusiastically cheering all the lifters, totally nonpartisan. 


                                                                    ###



Follow IronMind on Twitter and on Facebook.


Want to talk strength? Visit the IronMind Forum: Strongman, grip, Highland Games, Olympic lifting, stones and more.