Rosters Announced: IHGF World Highland Games Team Championships
"The IHGF officially announced today that the Caledonian Club of San Francisco as the host of this year's IHGF World Highland Games Team Championships, so things are gearing up for the big event in Pleasanton, Californina." Francis Brebner reported to IronMind.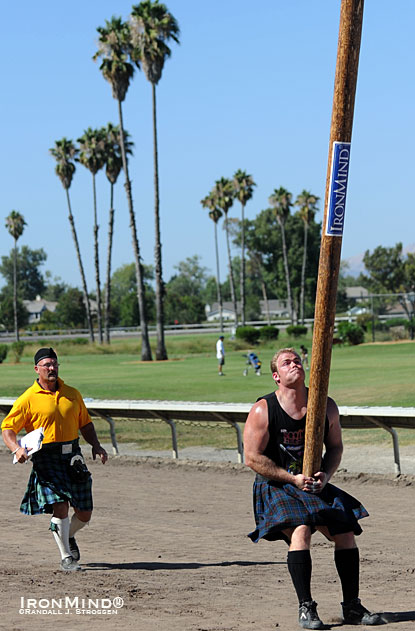 With Francis Brebner ready to score his effort, Dan McKim is about to launch the caber in Pleasanton last year, where he won both the 2010 Invitational U.S. Heavy Events Championships and the IHGF World Caber Championships. IronMind® | Randall J. Strossen photo.




"Within two weeks of each other, Pleasanton and Loon Mountain–which are considered to be two of the biggest and best Highland Games in the nation of America and which are also both ranked in the top ten best games internationally–will have twelve of the world's elite athletes slugging it out for the title of IHGF World Team Champions and sole IHGF World Champion.," said Brebner. 



"Top international judge Steve Conway, who is also the athletic director for the Caledonian Club of San Francisco said, 'We pride our games on having the world's best athletes competing, period. This year we are hosting the IHGF World Highland Games Team Championships. I believe this is going to be a most exciting event and I would not be surprised to see a possible few world team championship records set from last year's championships broken.'"

Teams

• Canada: Danny Frame, Jason Johnston
• Scotland: Sinclair Patience, Craig Sinclair
• Europe Sebastian Wenta, Hans Lolkema

• USA: Sean Betz, Mike Zolkiewicz

• USA: Mike Pockoski, Ryan Vierra

• USA: Daniel McKim, Chad Gustin 



"In addition to the IHGF Highland Games World Team Championships, we will be also hosting the IHGF single events world championship events, such as the Caber World Championships and Weight Over the Bar World Championships, which adds a grand finale to the concluding competition of each day," Brebner said.

Stay tuned for the official line up of athletes for the New Hampshire Loon Mountain IHGF World Highland games Championships to be released within the next several days.

###

Visit the IronMind Forum: talk strength, discuss this story. Strongman, grip, Highland Games, Olympic lifting, stones and more.

You can also follow IronMind on Twitter.