Ronny Weller and Hossein Rezazadeh Hit the Training Hall
Athens – With the heavier classes coming up in weightlifting, the big guys are starting to hit the training hall, and yesterday evening, both Ronny Weller and Hossein Rezazadeh went through light workouts.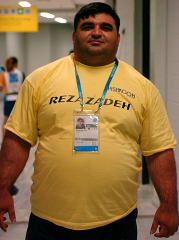 Defending Olympic champion, Hossein Rezazadeh, makes his first appearance at the training hall in Athens. IronMind® | Randall J. Strossen, Ph.D. photo.

Weller, the German superstar, is going for a fifth Olympic medal, which would be a first in Olympic history. Weighing about 152 kg, Weller did push presses and front squats yesterday, working up to 200 kg x 1 in the push press, and 240 kg x 1 in the front squat. There continues to be some concern about a pulled muscle in the groin area.

Hossein Rezazadeh (Iran), the defending Olympic champion and a favorite to repeat here, made his first appearance in the training hall yesterday and created the kind of stir only someone in his position can. Rezazadeh called his training "very small," which is quite a contrast to his 163-kg or so body.

Rezazadeh started his workout with power snatches, working up to two singles with 170 kg. Next, he did power cleans and power jerks, working up to 200 kg for two singles, with his feet spread characteristically wide on all of his power cleans. Back squats finished off this diminutive effort, and Rezazadeh wrapped things up with a very easy, very high bar single with 320 kg.