Rolling Thunder® Update: World Record Holder Laine Snook Pulls a Huge One, Too
"Went out to my gym last night, more focused than I have been for quite some time," Rolling Thunder® world record-holder Laine Snook reported to IronMind® today.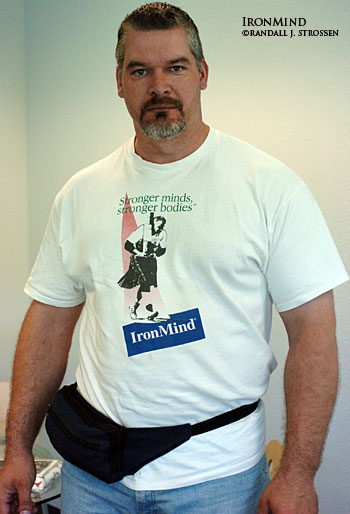 While Laine Snook was holiday in the US last year, he kindly stopped by IronMind® . . . besides being the world record-holder on the Rolling Thunder®, Laine Snook might hold the record for the most weight in barbell plates ever gotten on an airplane by one person, without paying any excess baggage fees. IronMind® | Randall J. Strossen, Ph.D. photo.
". . . pulled 286 in plates - amazing what a bit of focus can do. Trained much harder than I normally do. I think that this could be just the kick in the butt that I need," Laine said, referring to Mark Felix's informal debut as a world-class performer in this benchmark test of grip strength.

Interest is developing in a major Rolling Thunder® contest, possibly early next year - in addition to Laine Snook and Mark Felix, it would be wonderful to include such other top tier performers as Phil Pfister, Odd Haugen and at least one member of the Gillingham family.

Stay tuned for more developments.