Rice Nearly Pinches Bodyweight
He's been lifting weights for over 45 years, and along the way he's done plenty of snatches and cleans and jerks, but this past weekend, Chris Rice was having at it in the Global Grip Challenge, where he walked away with not just a good time, but from the sound of things, an age-group world record in the pinch grip as well.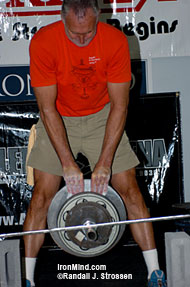 With this good lift of 197.48 pounds, Chris Rice came within a whisker of pinch gripping bodyweight at the Diesel Crew's Global Grip Challenge held last weekend at Sorinex in Irmo, South Carolina. IronMind® | Randall J. Strossen, Ph.D. photo.
Nominally, Rice hauled up a good 190-pound lift, but when everything was weighed and totaled, it came out to 197.48 pounds, just shy of Rice's 198-pound bodyweight, but well over his own [prior] world record of 193 pounds, which he did at the 2005 Global Grip Challenge, also run by the Diesel Crew.

The 57-year-old, six-foot two-inch tall Rice said, "I started lifting at age 11 in 1959 and have never quit, even while in Vietnam. I started training grip for actual grip feats in 2003 when I found the GripBoard, but have been a rock climber for 23 years or so - therefore I guess I've trained grip for many years. I think I bought my first COC grippers in 2000 or 2001."

"My goal is to pinch bodyweight in a competition. I lifted 197.48 lb. [at the 2006 Global Grip Challenge] and weighed 198 lb. when I got home - close but not quite yet. Maybe next time."