Rezazadeh Wins, But . . .
Santo Domingo - It's still a foregone conclusion that Hossein Rezazadeh (Iran) rules the super heavies, but there was some more big news in the +105-kg category at the World Weightlifting Championships today: Dong Feng, from China.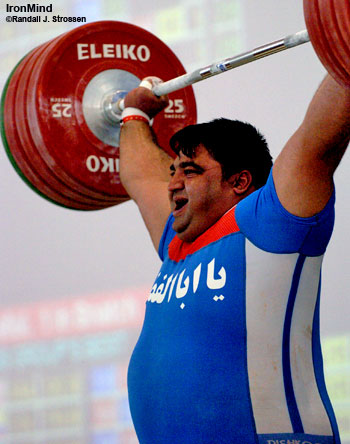 Even if not quite up to his world-record level, Hossein Rezazadeh makes child's play of things like this 202-kg snatch. IronMind® | Randall J. Strossen, Ph.D. photo.

If you're so jaded that snatches under 200 kg don't merit much attention, this class could have been a snoozer - Velichko Cholakov (Bulgaria) bombing with 185 and Viktors Scerbatihs (Latvia) opening at 192?! Rezazadeh making 202 for the gold medal, but missing 206? On the other hand, how about this guy Dong Feng? If you were wondering who to watch in the run-up to Beijing, put this guy's name on your list because he tried to break the world record in the snatch, with 198, but missed.

In the clean and jerk, things were equally as unimpressive in terms of the numbers, with Rezazadeh winning with a mere 246, but once again, guess who called for a junior world record? Dong Feng had a solid success with 245 kg on his second attempt, and just to show that he hadn't hit the bottom of his tank, he called for 251 on his third attempt, going for the junior world in the jerk and in the total, but he pulled a hamstring as he was launching the bar on its way.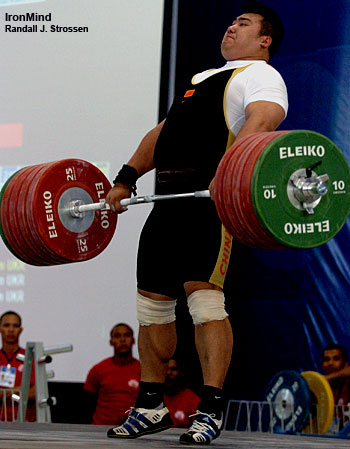 Sure, Dong Feng broke the junior world record with this 245-kg clean and jerk, but more than that, he marked himself as a guy to watch in the run-up to Beijing. IronMind® | Randall J. Strossen, Ph.D. photo.