Rezazadeh: Two Golds But No World Records
Doha, Qatar - Such is the burden of his dominance: Even though Hossein Rezazadeh (Iran) won two gold medals in the +105-kg category at the World Weightlifting Championships, lifting fans had been hoping for world records from him and they did not get them.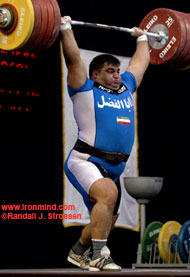 Hossein Rezazadeh cleaned this 263 easily, punched it overhead, but a moment later it came crashing down. IronMind® | Randall J. Strossen, Ph.D. photo.
Although Rezazadeh would have to have been considered the favorite in the snatch, the field included a number of lifters who could put pressure on him - including Jaber Saeed Salem, who had beaten him on the lift at the 2003 world championships. There was also MILO cover guy Evgeny Chigishev (Russia), who had snatched 205 kg at this year's European Weightlifting Championships, even though he weighed nearly 40 kg less than Rezazadeh. Chigishev didn't disappoint, as he opened at 200, with a great lift, followed by Rezazadeh who ripped up 201 for his first attempt. Salem (Qatar), who Stefan Botev told IronMind® was nursing an injured back, made a great lift with the same weight on his second attempt. Viktors Scherbatihs (Latvia) pumped up a machine-like 201 on his second attempt and then Salem missed 205 - up and down.

Rezazadeh nailed an easy 205 on his second attempt and held the bar overhead for seconds as he reveled in his lift, and Scherbatihs sent the same weight up and over his head for his final attempt. Chigishev came out for 209 and was getting heckled by the crowd, but he ripped the weight up regardless, and Rezazadeh followed with another easy lift with 210 - once again, he enjoyed the moment as he held the bar overhead.

When Chigishev came out for 211, which would be a gold medal lift, the crowd wouldn't give him any peace, so he turned to the Iranian fans, asked for quiet, did not get it, made a powerful lift anyway and he sent the crowd a knowing glance as he left the platform.

Nobody was expected to challenge Rezazadeh for the gold medal in the jerk and the total, and that was how it turned out.

Starting at 251, Rezazadeh made an easy lift and then Chigishev only pulled the bar to knee height before letting go of it. Going for the world record in total on his second attempt, Rezazadeh cleaned 263 easily, drove it overhead with ample horsepower, but then it came crashing down, and he passed on his third attempt.

Rezazadeh ended up with 461, followed by Chigishev at 457 and Salem at 446.