Rezazadeh Focused on Beijing
Iranian weightlifting officials told IronMind® that Hossein Rezazadeh would not be coming to the US as part of the exchange program that is bringing a delegation of Iranian weightlifters to the US Olympic Training Center in Colorado Springs.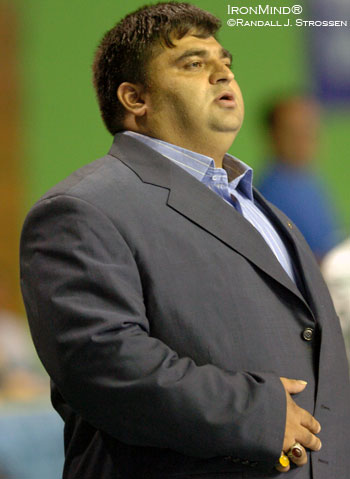 Content to watch the action at the 2007 World Weightlifting Championships, Hossein Rezazadeh (Iran) figures on being a principal player at the upcoming Olympics: He owns all the super heavyweight world records in weightlifting, already has two Olympic gold medals to his credit, and now he's looking for his third. IronMind® | Randall J. Strossen photo.


It had been widely reported that two-time Olympic gold medalist Hossein Rezazadeh would be part of this delegation, but, in fact, the Iranian officials told IronMind that "only juniors" are coming. Rezazadeh is completely focused on the 2008 Olympics, they said, where he hopes to win a third gold medal in weightlifting.

The upcoming visit is the result of the joint efforts of the US Olympic Committee, USA Weightlifting, the Iranian Olympic Committee and the Islamic Republic of Iran Weightlifting Federation, and it is seen as the first step in a growing athlete-exchange program between the USA and Iran.

Even if Rezazadeh will not be coming, there is a bonus here, though: Hossein Tavakoli will be a member of the delegation, according to the Iranian officials, since he coaches Iran's juniors.

Tavakoli and Rezazadeh both won gold medals at the 2000 Olympics, and in 2003, IronMind®'s Randall Strossen and the Arnold's Jim Lorimer invited the two stars to the 2004 Arnold for a special weightlifting exhibition. Iranian mass media broadcast stories on the invitation, and while it initially received a verbal acceptance, the lifters, ultimately, were unable to make the highly-anticipated visit.