Rezazadeh Fine After Accident
Speaking from Tehran today, Kouroush Bagheri told IronMind that while he broke his shoulder in the car accident last weekend, Hossein Rezazdeh emerged unscathed.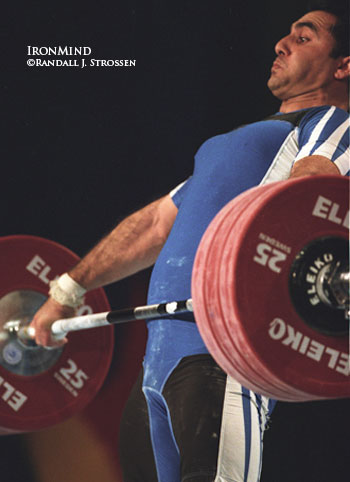 Lifting in the 94-kg category, Kouroush Bagheri (Iran) cranks on this 180-kg snatch at the 2003 World Weightlifting Championships (Vancouver). IronMind® | Randall J. Strossen, Ph.D. photo.
The Iranian National Weightlifting Team had been training in northern Iran, on the Caspian Sea, Bagheri said, and while they were there, they faced an unannounced WADA doping control, which reportedly produced negative results. On the drive home, the car with Hossein Rezazadeh and Kouroush Bagheri was involved in a serious accident, which left Bagheri with a broken shoulder, but Rezazadeh was uninjured.

Not everything has been smooth sailing for the Iranian superstar as he prepares for the World Weightlifting Championships next month. Earlier, Rezazadeh had told IronMind® that he was already at the level of snatching 200 kg and cleaning and jerking 250 kg, so things appeared to be solidly on track for his title defense in Thailand.

A knee injury followed, though, which slowed down his training, explained Bagheri. Rezazadeh recovered, was once again moving toward peak condition, but this accident, even if not leaving him injured directly, has interfered with Rezazadeh's preparation, said Bagheri. Still, he hopes that the two-time Olympic gold medalist will manage to reach top form in time for Thailand . . . moving one step closer to the hunt for his third Olympic gold medal, in Beijing next year.